Climate Centre board member Jagan Chapagain is new IFRC Secretary General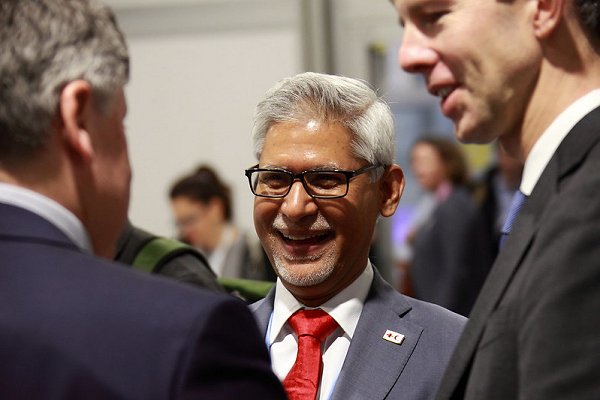 4 December 2019
(This story is a press release issued by the IFRC yesterday; it has been edited slightly here for length and time references.)
Nepali humanitarian and Red Cross Red Crescent veteran, Jagan Chapagain, was yesterday selected as new IFRC Secretary General during an extraordinary meeting of the organization's Governing Board, shortly before the first of the 2019 Statutory Meetings.
An engineer by training, he brings more than 25 years' experience within the International Red Cross and Red Crescent Movement.
Most recently, Mr Chapagain has served in a series of senior IFRC roles, including as Regional Director for Asia Pacific, as Chief of Staff, and as Under Secretary General for Programmes and Operations, a role that sees him guide all IFRC relief and development efforts around the world.
'Strong vision'
Announcing Mr Chapagain's selection, IFRC President Francesco Rocca said: "We are very excited to announce Jagan as our new Secretary General. He brings a deep knowledge and understanding of the Red Cross and Red Crescent.
"He started his path in our Movement as a volunteer and I am sure he will bring all his first-hand experience as an added value to this position.
"He also has a strong vision for the role the IFRC can and must play, both within the Movement and as part of the broader humanitarian sector."
Mr Chapagain will begin his four-year mandate on 1 February 2020, replacing the current Secretary General, Elhadj As Sy.
The Governing Board expressed its deep appreciation to As Sy for his leadership and able guidance since 2014.
"Let me also take this opportunity to thank As for his great commitment to humanity and his immeasurable dedication to our organization and to the millions of people we serve," said Rocca.
"I am sure our paths will come across again soon: once part of the Red Cross Red Crescent family he will be part of it forever."
                                                                                   *
We're very pleased indeed to welcome Jagan to his new role, and he has also been a highly valued member of our board since 2017, writes Climate Centre Director Maarten van Aalst.
I had the pleasure of working side by side (photo) with him on our issue, climate, at last year's UN talks in Katowice, where he memorably told the Marrakech Partnership round table on resilience that "we need to move from debating value for money to value for people" – a view later explicitly endorsed in the outcome document.
Referring to last year's IPCC '1.5 degree report', he added that vulnerable people already disproportionately affected by climate impacts couldn't choose whether it "was welcomed, noted, or ignored; it's there and they are being affected."
Earlier this year Jagan chaired the Act Early on Early Action session at the Humanitarian Networks and Partnerships week in Geneva.
His schedule will be packed and his agenda broad, but Jagan's appointment will be very good news for those of us focused on climate, which all agree is becoming an ever-more urgent humanitarian priority.
We look forward very much to continuing our work shoulder-to-shoulder with Jagan, with this year's critical COP meeting now underway in Madrid and UN Secretary General Antonio Guterres warning that the world is close to "the point of no return".
The new IFRC Secretary General, Jagan Chapagain, at last year's UN climate talks in Katowice, Poland; at right is Professor Maarten van Aalst. (Photo: Climate Centre)