Anticipatory humanitarian action: 'commitment, courage, humility, questioning'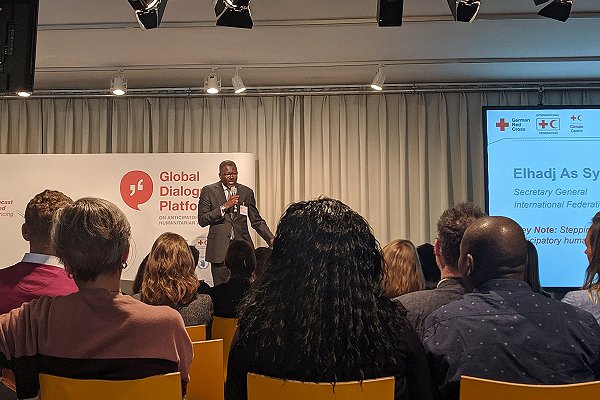 21 November 2019
This year's Global Dialogue Platform on Anticipatory Humanitarian Action in Berlin last week gathered more than 200 people from 40 countries and was the seventh in a series that began in 2015.
Organized by the German Red Cross, the IFRC, the Climate Centre and the World Food Programme, it centred on the theme of Early warning early Action: evidence, coherence, influence and science.
Christof Johnen, Head of International Cooperation at the German Red Cross, said in an opening address: "We face every day the effects of climate change and we need to act early."
The international dialogue platforms, he added, had "helped us create joined-up efforts". Climate change, he said, knew no boundaries and recognized no social classes.
Risk management
In his opening remarks, IFRC Secretary General Elhadj As Sy emphasized that "climate change is not a matter of the future, it is a matter of today – we need the science and we have the science now. The question is, are we listening to it?"
Overall he said, humanitarians could look forward to a journey that would encompass "commitment, courage, humility, questioning".
Dominique Burgeon, Director Emergencies at the UN Food and Agriculture Organization, said FAO's experience proved that "acting early in agriculture and food security is critical to stop people sliding into hunger.
"Early action is not only an important addition to the current food-crises response model, it is absolutely imperative." At the dialogue platform FAO detailed 17 early actions in 2019.
Reflecting the cruciality in forecast-based financing of linking science with policy and practice, SHEAR researchers led sessions on risk management and early warning by governments and drought and food security.
Emmah Mwangi from the International Centre for Humanitarian Affairs shared new research outcomes from the ForPAC project that included recommendations for forecasting and risk management.
A key session in Berlin comprised reflections about what can go wrong with FbF if not designed and implemented appropriately; another launched new technical papers on disaster risk financing produced with the Start Network.
'Anticipation hub'
"The past decade has witnessed a remarkable shift towards anticipatory humanitarian action," said Climate Centre Director Maarten van Aalst, who was at the dialogue platform.
"It's encouraging that the critical need for early action is now also recognised in the climate sector, for instance with the Risk-Informed Early Action Partnership at the UN Climate Action Summit in September.
"We need to leverage risk-information across timescales, not only to see disasters coming and act early but also reduce risk over time through, for instance, plans for climate adaptation and investment."
The German Red Cross is also launching an "anticipation hub" information portal – a joint initiative with the IFRC and Climate Centre that will help the Red Cross Red Crescent and external partners implement anticipatory action in the field.
IFRC Secretary General Elhadj As Sy talking to the Berlin dialogue platform on anticipatory humanitarian action last week. Are we listening to the science? he asked. (Photo: social media)