American Red Cross: Climate change a worldwide humanitarian emergency and defining threat of the 21st century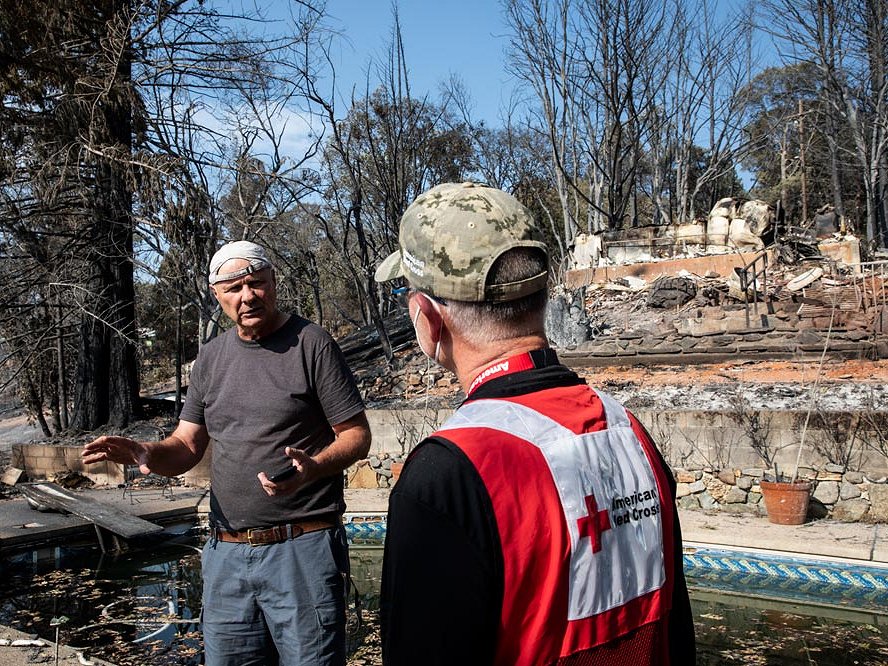 4 October 2021
By the Climate Centre
(Jennifer Pipa's complete testimony is available on the Senate committee website.)
The American Red Cross Vice-President for Disaster Programmes, Jennifer Pipa, has described climate change as "a worldwide humanitarian emergency – and a defining threat of the 21st century."
She was speaking last week in testimony to the US Senate Committee on Homeland Security and Governmental Affairs, which also heard from several senior figures involved in local disaster response in the United States.
"As part of the world's largest humanitarian network, the American Red Cross works on the front lines of the climate change crisis every day," Ms Pipa said. "We make a vital difference for families and communities in the US and around the world who are coping with the impacts of this crisis…".
"Disaster preparedness, response and recovery are at the heart of our mission – and these needs continue to grow, particularly for vulnerable communities that are disproportionately affected by climate-related disasters."
The Senate Committee hearing was entitled Addressing the Threat of Worsening Natural Disasters.
The American Red Cross had responded to more than 60,000 disasters a year, the vast majority house-fires, and "recurrences of more extreme-weather events such as wildfires, heatwaves, hurricanes and flooding which we have witnessed in just this last summer."
'An episodic series of acute events has now become a chronic condition of devastating climate impacts'
Ms Pipa said the partnership between the American Red Cross and Federal Emergency Management Agency (FEMA) was "extremely effective" in helping Americans recover from major disasters.
"Throughout this onslaught of extreme-weather events in the last decade," she added, "the Red Cross and FEMA are in constant communication and coordination on issues such as addressing shelter needs, conducting damage assessments, and supporting requests for transitional housing."
In a section of her testimony devoted to climate, Ms Pipa said data currently guiding Red Cross planning included:
*Major climate-related disasters have increased sixfold in 40 years.
*Climate disasters costing more than a billion US dollars rose from an average of nearly three a year in 1980–89 to just over 12 in 2010–19, with a record 22 last year.
*Nearly half of all adult Americans have no more than US$ 700 in savings to assist with recovery, according to a FEMA survey.
Intense environments

What was until very recently "an episodic series of acute events has now become a chronic condition of devastating climate impacts," she said, "leaving families and neighbourhoods without the opportunity or time to prepare or recover."
For example, people impacted by Hurricane Irma in 2017 were struck again the same summer by Hurricane Maria. And in 2020 Louisiana residents first affected by Hurricane Laura were barely able to assess the damage when they were hit again by Hurricane Delta.
"This chronic situation is only exacerbated by the other struggles disproportionately impacted families face daily: a growing level of income disparity coupled with the challenges of affordable housing, limited access to health care, and inequalities in education."
In addition to the ongoing increased pace of disasters, over the last two years the Red Cross and other response organizations had the global Covid pandemic to address.
Chronic conditions

In the face of increasingly complex and intense environments, "technology and innovation" are now among the top priorities at the Red Cross and had "helped our organization remain relevant and effective."
An event-management system known as RC View "enables us to augment our own data by drawing upon the almost limitless data sets, models and forecasts from government and non-profit partners," for example.
This helped the Red Cross find people suffering from disasters and the intersection of other chronic conditions, assess what was needed and where, and deploy outreach teams strategically.
Ms Pipa added: "At a time of intense polarization in our nation, the Red Cross strives to be an example of the diversity of our communities coming together in challenging times to help all those in need.

"As American Red Cross President and CEO Gail McGovern has said, 'Now, more than ever, we need to care for one another and reaffirm our commitment to diversity by supporting one another'."
She concluded: "The American Red Cross responds to a disaster every eight minutes and works hard to maintain our readiness to respond 24/7.

"As of last month [August], in response to wildfires, floods, hurricanes and our efforts to assist the US military in caring for Afghan evacuees, the Red Cross mobilized nearly 2,900 volunteers.

"The threat of disasters is increasing, and we must be prepared for the next disaster, not just the ones that have passed."
Ron Pucci (left) gives American Red Cross volunteer Dave Wagner a tour of his property destroyed in the California's River fire that burned for more than a week in August. The Red Cross began in June assisting people affected or displaced by fires in California described as relentless. (Photo: Scott Dalton/American Red Cross)