'The quickest way to get global funding to local actors': Donors vow increased support for IFRC's Disaster Relief Emergency Fund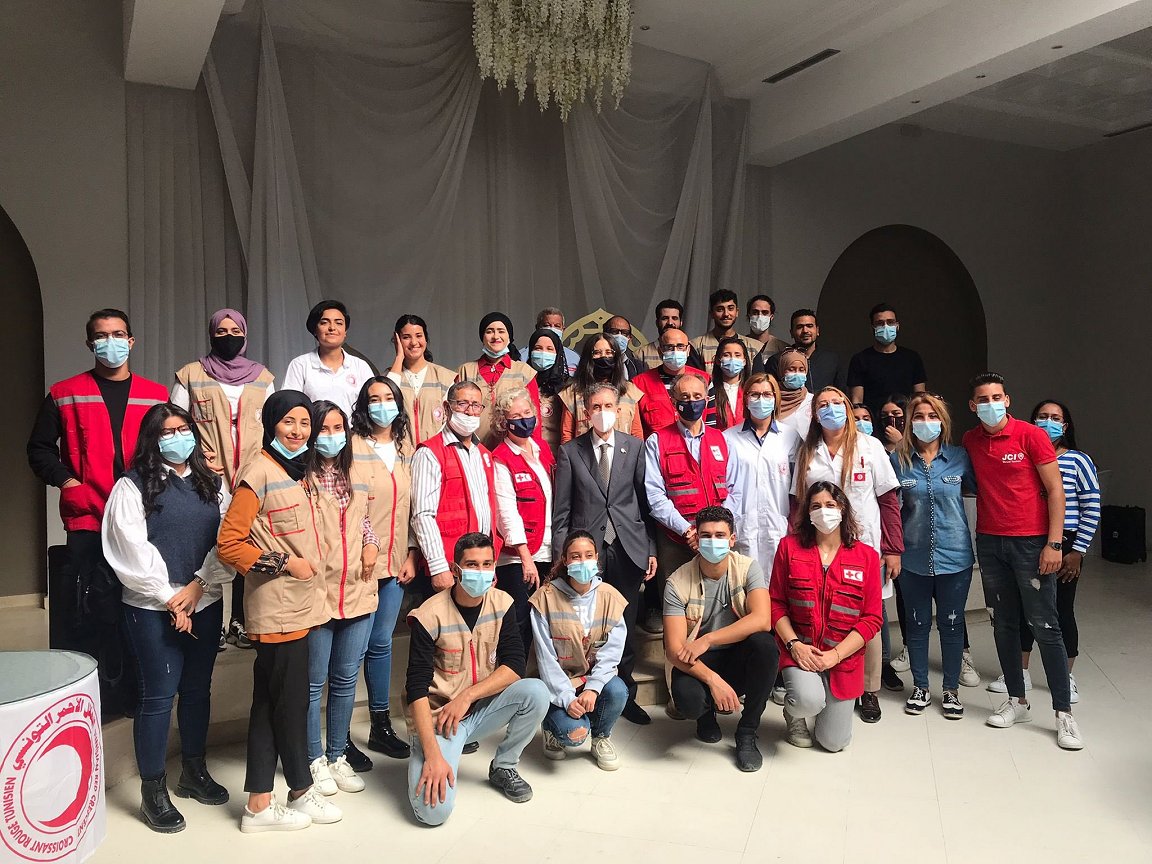 19 October 2021
by the Climate Centre
Major international donors gathered online yesterday to pledge new or renewed funding to the IFRC's Disaster Relief Emergency Fund (DREF) – "the quickest, most efficient and most transparent way of getting global funding directly to local humanitarian actors, both before and immediately after a crisis hits," the IFRC said.
Chaired jointly by the IFRC and the European Commission, the first-ever pledging conference for the DREF was aimed at expanding the fund to 100 million Swiss francs a year by 2022 and up to 300 million by 2025, to address "the alarming rise in disasters and to support millions more people".
Climate-related disasters are occurring with increasing frequency and intensity around the world, but most go unseen, devastating lives, infrastructure and economies without attention, resources or help.
A video short produced for the event points out that in the last decade 83 per cent of all disasters have been caused by extreme weather or climate-related events that killed 410,000 people and affected 1.7 billion.

DREF data shows that by far the largest category of emergency allocation in 2021 has been floods; twice as much as the next largest, population movement, followed by epidemics, fires and jointly civil unrest and drought.
'Through this fund, our resources are channelled
to populations with the most pressing needs
in an open and direct manner'
IFRC Secretary General Jagan Chapagain said: "To address the massive humanitarian impacts of climate-related disasters and Covid-19, investment must come at the community level where it has the greatest impact.

"The DREF brings aid straight into the hands of people in need and builds the capacity of Red Cross and Red Crescent societies who are best placed to deliver it.
IFRC President Francesco Rocca tweeted that DREF was the best way to "channel global funding directly to local responders before and immediately after extreme-weather events and other emergencies."
European Commissioner for Crisis Management Janez Lenarčič said: "The European Union continues to support the Disaster Relief Emergency Fund. It is a concrete example of our commitment to localization.

"Through this fund, our resources have been channelled to populations with the most pressing needs, in an open and direct manner."
As well as the European Union, the IFRC specifically thanked 12 governments for pledging new or renewed funding to the DREF: Australia, Belgium, Canada, Germany, Ireland, Korea, Luxembourg, the Netherlands, Norway, Sweden, Switzerland, the United Kingdom, and the Japanese Red Cross and White & Case LLP.
"We also would like to thank the respective National Societies…for their support to the DREF and for their continued engagement with their governments," the IFRC added.
Lifesaving support
Susanne Fries-Gaier, the Director of Humanitarian Assistance at the German Federal Foreign Office, tweeted that Germany was pledging 20 million euros to the DREF over three years, 17m of it for anticipatory action.
In other social media engagement, the Canadian mission in Geneva said it would be reconfirming its commitment to the DREF that it had "proudly supported for over 15 years by working closely with [the Canadian Red Cross] to support rapid responses in small and medium-scale disasters."
The Swiss Humanitarian Aid Unit said getting funding directly to local humanitarian actors before and immediately after a crisis was "quick, efficient and forecast-based" and the idea underpinning DREF; "[Switzerland] is proud to be part of it, also in the years to come."
Since its launch in 1985, the IFRC has supported 200 million people in crisis worldwide through the DREF, which has also now published its Annual Plan 2021 and Strategic Ambition 2021–2025.
So far this year, the DREF has helped nearly 70 National Societies provide lifesaving support to over 11 million persons with nearly 30 million Swiss francs.
IFRC Regional Director for the Middle East and North Africa Hossam Elsharkawi with the Red Crescent in Menzel Temime, north-east Tunisia, this week, seeing how "local volunteers and donations to DREF have made a difference", he said. Thousands of hectares of farmland in Algeria and Tunisia were damaged in wildfires this year; DREF grants to both countries helped people recover. In 2021, 14 DREFs for a total  4.4 million Swiss francs have people in seven MENA countries. (Photo: Tunisian Red Crescent via IFRC)