Sweden will double climate finance by 2025 – minister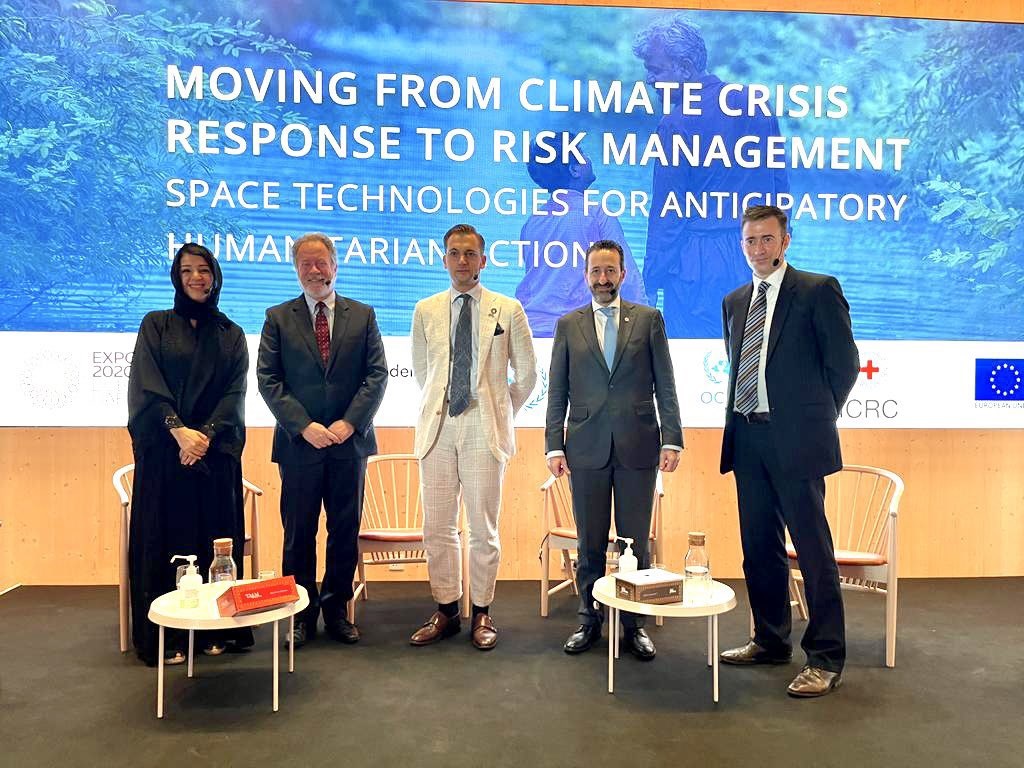 24 October 2021
by the Climate Centre
The planet is in a "severe climate crisis" but humanity has never been better equipped to meet the challenge; 20 per cent of climate-related disasters are predictable and there is "clear evidence that acting ahead of crisis saves people from…poverty, food insecurity, sickness, new pandemics, forced mass migration and displacement."
That was the argument presented yesterday by Sweden's Minister for International Development Cooperation and Humanitarian Affairs, Per Olsson Fridh, at Expo 2020 in Dubai, where he was speaking in the space theme-week.
"Through anticipatory action, development gains are protected, drivers of conflicts are prevented, and lives and livelihoods are saved," he told a high-level panel, Moving from climate crisis response to risk management – space technologies for anticipatory humanitarian action.
But funding for anticipatory action had to be increased from its current 1 per cent of humanitarian financing, and donors must enable "development aid, including climate aid, to back up humanitarian aid".
"I intend to instruct my government to work ahead of crisis. An important step in this spirit is the [12 October] announcement that Sweden is doubling its climate aid until 2025…Ahead of COP 26 Sweden is raising the bar on climate aid in the world."
'Through anticipatory action,
development gains are protected,
drivers of conflicts prevented,
lives and livelihoods saved'
Reem al Hashimy, Emirati Minister of State for International Cooperation and Director General of Expo 2020, told the panel her country had "long been an advocate of anticipatory action to manage the risk of disasters, alleviate suffering and divert preventable costs."
She argued that it was in the field of anticipatory action that the two challenges of mitigating climate change and preserving biodiversity and, secondly, the productive exploration of space "converge quite neatly".

Also taking part on the high-level panel hosted by Sweden in its Expo 2020 pavilion pavilion were the ICRC's Director-General Robert Mardini, and David Beasley, Executive Director of the World Food Programme.

It was moderated by Ben Webster, who leads the secretariat of the IFRC-hosted Risk-informed Early Action Partnership, and also attended by Fawzi Amin, Head of the IFRC Country Cluster Delegation in the Gulf.
The high-level panel on space technology for anticipatory action, hosted by Sweden at its Expo 2020 panel yesterday. From left, Reem al Hashimy, Emirati Minister of State for International Cooperation, David Beasley, Executive Director of the World Food Programme, Per Olsson Fridh, Robert Mardini, Ben Webster. (Photo: social media)