'Inextricable link between hunger and climate' highlighted in 2019 Global Hunger Index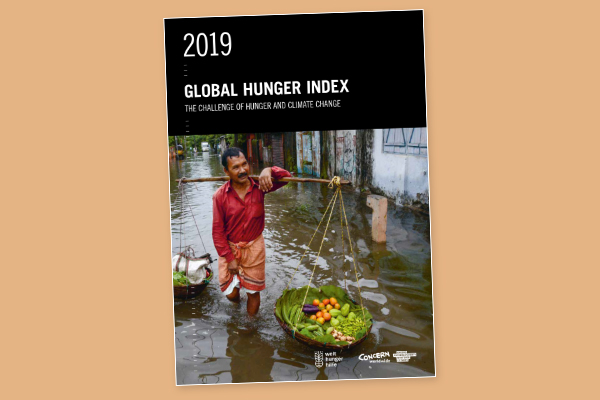 18 October 2019
The 2019 Global Hunger Index (GHI), launched Tuesday by Concern Worldwide and Welthungerhilfe, says that while the world has made gradual progress in reducing hunger on a global scale since 2000, progress has been uneven; hunger persists in many countries and in some is even being reversed.
The GHI report says that worldwide hunger and undernutrition "is on the cusp of the moderate and serious categories" – a significant improvement on 2000 when it was unambiguously in the latter category. 
It details reductions in each of the four chief indicators used in the report: simple undernourishment and child stunting, wasting, and mortality.
However, a summary adds that "[e]xtreme climatic events, violent conflicts, wars, and economic slowdowns and crises continue to drive hunger in many parts of the world."
Alarming
Generally, South Asia and Sub-Saharan Africa have scores indicating serious levels of hunger; out of a total of 117 countries ranked, 43 have serious levels of hunger.
The absolute number of people who are undernourished actually rose from 785 million in 2015 to 822 million last year, the GHI says, while nine countries in categories ranging from moderate to extremely alarming have higher scores now than in 2010, including the Central African Republic, Madagascar, and Yemen.
Of the countries for which data are available, one, the Central African Republic, suffers from a level of hunger that is "extremely alarming", while four others – Chad, Madagascar, Yemen, and Zambia – suffer from levels of hunger that are alarming, according to a summary.
Describing climate a "threat multiplier for hungry and undernourished people" that reduces yields, pushes prices up and incomes down, the 2019 GHI calls on the international community to better "prepare for and respond to disasters, support resilience and adaptation…address global inequalities, mitigate climate change without compromising food and nutrition security, make financing for climate action fair and effective, and radically transform food systems."
'Tensions'
In a joint foreword to the peer-reviewed report, Mathias Mogge, Welthungerhilfe Secretary General, and Dominic MacSorley, Concern Worldwide CEO, argue that accelerating climate change, the focus of the publication's special essay, is "radically altering the environment within which we work to eliminate hunger".
They add: "Climate change is already exacerbating tensions and conflict, destroying livelihoods, driving displacement, worsening economic and gender inequalities, and undermining long-term recovery and sustainable development.
"This year's GHI sets out in no uncertain terms the ways in which climate change is likely to jeopardize food and nutrition security in the future."
The report, they write, "highlights the inextricable link between hunger and climate change and the shared urgency of solving two of the world's greatest challenges."
The 2019 Global Hunger Index says that while the world has made gradual progress in reducing hunger on a global scale since 2000, progress has been uneven. (Image: report cover)