Redouble efforts for climate resilience and risk reduction, says UN chief, as Super Typhoon Hagibis lays waste to parts of Japan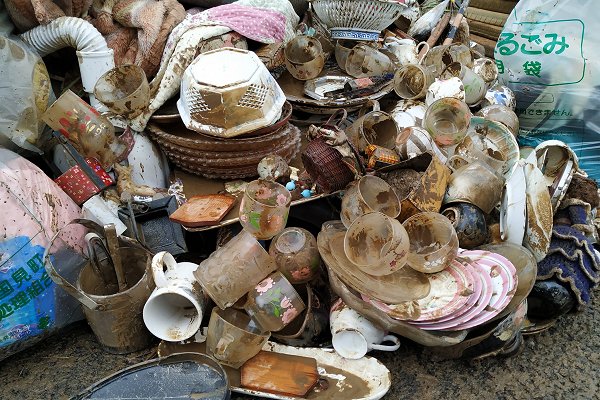 14 October 2019
UN Secretary General Antonio Guterres yesterday called for climate resilience and disaster risk reduction to be at the centre of investments worth "trillions of dollars in new housing, schools, hospitals, and the infrastructure" expected to be made worldwide in the future.
In a special message for International Day for Disaster Risk Reduction, and only hours after Super Typhoon Hagibis struck Japan, Mr Guterres said there was a strong economic case that "making infrastructure more climate resilient can have a benefit-cost ratio of about six to one – for every dollar invested six can be saved.
"This means that investing in climate resilience creates jobs and saves money, and it is the right thing to do. It can ease and prevent human misery."
The UN Secretary General called for a greater focus on climate action, increased global ambition, and for DRR to be at the heart of the UN Decade of Action in the run-up to the deadline for the 2030 Agenda for Sustainable Development.
He was speaking the day after Typhoon Hagibis – described by the World Meteorological Organization as "one of the highest-impact storms to hit Japan in many years" – came ashore on the country's east coast south-west of Tokyo, killing nearly 50 people, according to NHK Monday.
Japan's national broadcaster quoted officials as saying "up to 40 per cent of the yearly rainfall was recorded in only a day or two in many areas. The storm caused more than a hundred rivers to overflow." 
'Families have lost all their belongings,
shops their merchandise.
Roads have been washed away'
The WMO called Hagibis a "huge and powerful storm, with hurricane-force winds, record-breaking rainfall, a devastating storm surge, and coastal and inland flooding" that had brought widespread devastation and disruption to densely populated cities, including Tokyo.
"Hagibis is one of the most rapidly intensifying tropical cyclones on record in the region," the WMO said, "at one stage reaching a Category 5 equivalent."
The organization added that the message of a high-level dialogue on storms that ended Friday, hosted by the Japan Meteorological Agency, was that "dramatic improvements in satellite technology, forecasts and early warnings" had helped save hundreds of thousands of lives, but increasing impacts of rising sea levels, extreme weather and population shifts called "for even more concerted disaster risk management in the future."
The Japanese Red Cross began preparing for Hagibis's arrival late last week, distributing relief items such as blankets and food in a operation coordinated from Tokyo headquarters, later helping to evacuate vulnerable hospital patients in need of acute care to safety. 
The IFRC's Caroline Haga reported "heartbreaking" scenes from Japan: "Families have lost all their belongings, shops their merchandise. Roads have been washed away," she tweeted Monday.
"Torrential rains caused violent floods, overturning cars, destroying homes and roads," she said. "Mud [is] simply everywhere."
'Vital role'
The IFRC said yesterday that on DRR Day this year it was focusing on making sure schools were safe. "Children shouldn't have to worry about their own safety when they are at school – but this is not the case for countless children around the world," the IFRC tweeted.
Climate Centre Director Maarten van Aalst said today: "All too often, we are confronted with the rising risk of a disaster when it is already too late. Investing in resilience, risk reduction and early warning systems that enable early action makes both economic and humanitarian sense, as the IFRC Cost of Doing Nothing report recently highlighted.
"I was also very glad to see the Risk-informed Early Action Partnership launched at the Climate Action Summit last month, exactly for this purpose".
The Tokyo conference on typhoons, coincidentally held just as Hagibis closed on Japan, was attended by government officials, WMO Secretary-General Petteri Taalas, and other senior specialists.
In a video message to the meeting, Prime Minister Shinzo Abe said the vital role national meteorological and hydrological services played in making the world more resilient to natural disasters "will be more important than ever in the years to come".
A family's ruined possessions lie in the street in Yanagawa, after Typhoon Hagibis passed through Japan over the weekend, triggering potentially record-breaking rain and floods. (Photo: Caroline Haga/Japanese Red Cross-IFRC via Twitter)