#redinnovation: Ideas, new technology or 'just making things simpler'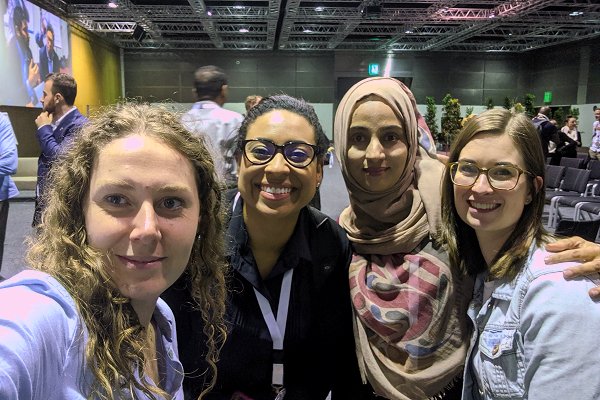 10 October 2019
At least 130 people from 50 National Societies and two reference centres were this week in the Qatar capital, Doha for the fourth Global Meeting on Innovation in Humanitarian Action, jointly organized by the Qatar Red Crescent, the Norwegian Red Cross, and the IFRC secretariat.
"As human beings we all innovate something. It is something that no one can deny," said QRCS President Mohamed bin Ghanem Al-Ali Al-Maadheed, opening the conference, which also included the ICRC.
"But is it [in the humanitarian sector] to the same degree as other industries or specialities?" 
Thanking the Qatar Red Crescent for hosting #redinnovation, IFRC President Francesco Rocca tweeted: "The Red Cross and Red Crescent face many challenges and opportunities in a rapidly changing world and we are going to need innovation to constantly improve how we support communities."
'We're here because we have to decide
on what to change'
Participants included the Global Disaster Preparedness Centre and the Climate Centre, which outlined operational experience with forecast-based financing and spoke about aspects of the IPCC's recently published oceans report.
Shaun Hazeldine, Head of Innovation at the IFRC, said: "We live in a world that is dynamic and changing very rapidly…We are here because we have to decide on what to change."
Digital transformation, social media, and innovations from other sectors featured as among the ways Red Cross Red Crescent volunteers, especially, can drive change to better address humanitarian challenges.
"Innovation helps us to create ideas and technologies, but sometimes innovation is just removing obstacles," said Andreas Hjorth Frederiksen, Head of Innovation at the Danish Red Cross.
"Actually, innovation may mean just making things simpler."
Marie Alméras, Deputy Head of Strategy and Innovation at the French Red Cross, said: "We believe that innovations and problem-solving can come from the ground, from the people who act on a daily basis everywhere in their country and abroad."
Red Cross Red Crescent women's voices were prominent at this week's innovations conference in Qatar, which also recognized Mama Eatedal (not pictured) for 45 years of volunteering for the Yemen Red Crescent. From left: Jessica Ferguson, British Red Cross; Karla Henry Vegas, Costa Rica Red Cross; Neelam Shah, Kenya Red Cross; Alice Bardrick, British Red Cross. (Photo: social media)