COP 26: IFRC report reveals impact on people forced to flee floods, fires, drought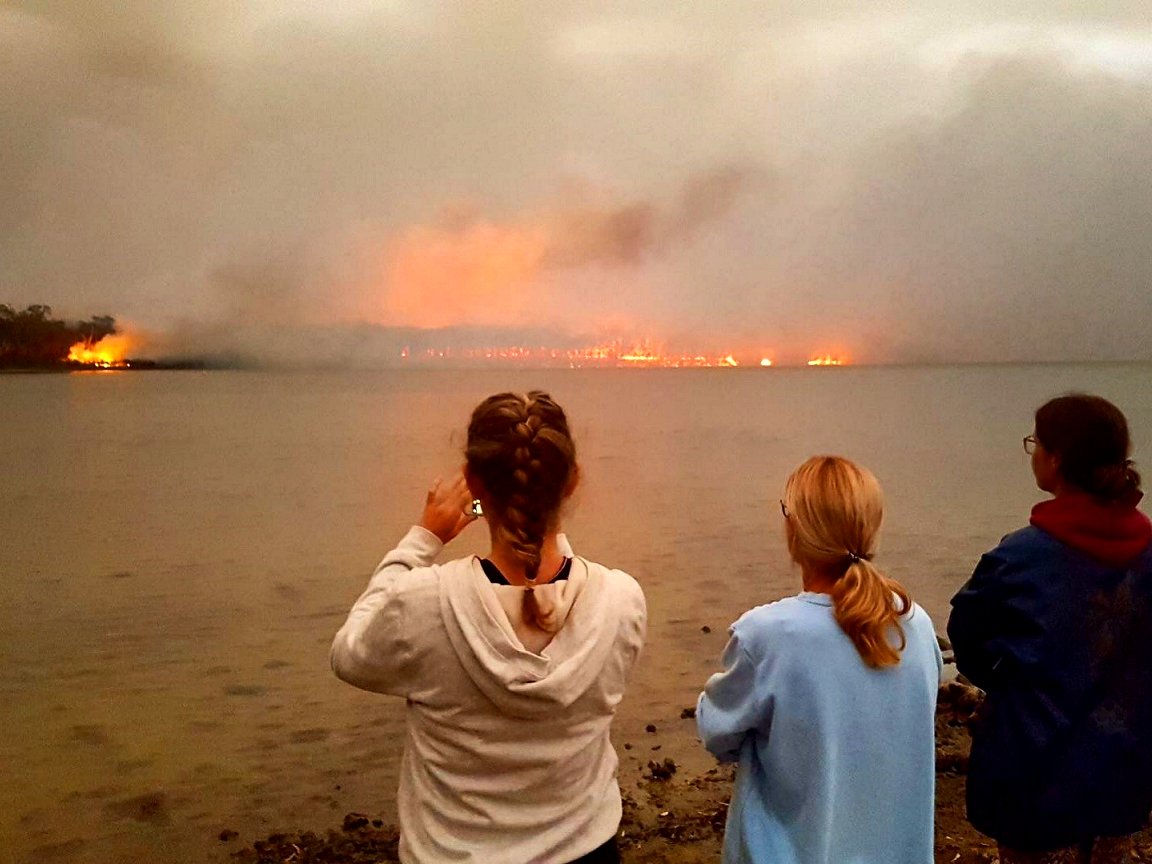 31 October 2021
by the IFRC
(This story is a press release issued by the IFRC on Thursday. A full rundown of Red Cross Red Crescent engagement at COP 26 which began today, including D&C Days on 9 and 10 November, is now online.)
A new report by the IFRC and the British Red Cross, Displacement in a changing climate, sheds light on the devastating impact of the climate crisis happening today across the globe: the displacement of people from their homes, their land, and their countries.
National Societies are at the forefront of this emergency across the world. Through an analysis of climate-related displacement data across 11 countries – Australia (photo), Fiji, Germany, Honduras, Iraq, Malawi, Mozambique, Namibia, Samoa, Tuvalu and Yemen – the report provides new insights into their work to assist displaced communities, but also into the measures taken to prevent displacement when possible.
Jagan Chapagain, IFRC Secretary General, said: "Drought in Iraq, bushfires in Australia, floods in Germany, cyclones in Mozambique – climate-related disasters are happening everywhere right now, forcing millions of people to leave their homes.

"At COP 26 and beyond, we will make clear that urgent action and investment at the local level is needed to protect communities from climate-related displacement and to respond to its devastating impact when it occurs."
The latest data from the Internal Displacement Monitoring Centre shows that in 2020, just over 30 million people were internally displaced by disasters. This is more than three times as many displaced by conflict and violence.

Weather-related events such as floods and storms, but also wildfires, landslides, extreme temperatures, and drought accounted for almost all the disaster-related displacements.
'Climate financing must empower communities
to react and respond, particularly those with
the highest risks and the lowest capacities'
The research finds that displacement creates devastating humanitarian impacts and disproportionately affects already marginalized groups, including people with existing health conditions, children, and indigenous communities.

The case studies of the German and Mozambique Red Cross illustrate how displacement can cause existing health conditions to worsen and new health risks to emerge. In Iraq, climate change has increased the risks to children's health, nutrition and cognitive development.

Climate change also poses a real threat for indigenous communities for whom the destruction of sacred spaces, flora and fauna represent an irreplaceable loss, as highlighted by the Australian Red Cross.
In a world where overlapping crises have become the new normal, underlying vulnerabilities and humanitarian challenges are also exacerbated.

In Yemen, for instance, where conflict collides with extreme flooding and the spread of diseases, millions of people have become internally displaced. With its local presence across the country, the Yemen Red Crescent can reach disaster-affected people even in active conflict zones to provide health and psychosocial support, food, and essential items.
Ezekiel Simperingham, the IFRC's migration lead said: "We need to act locally before communities are displaced and invest in adaptation and early action to combat climate risks.

"Climate financing must empower communities to react and respond, particularly those with the highest risks and the lowest capacities."
The New South Wales coastal town of Berrara during the bushfire emergency early last year. Extreme temperatures, dry conditions and high winds combined to fuel hundreds of fires across five Australian states in an unprecedented fire season. Entire communities were evacuated and others were cut off. Australia is one of 11 countries from which data on climate-related displacement has been analysed for a new IFRC report, issued in the run-up to COP 26. (January 2020 library photo: Australian Red Criss/Sarah Gallagher)