Scientists say extreme rain and floods with Storm Imelda up to 2.6 times more likely due to global warming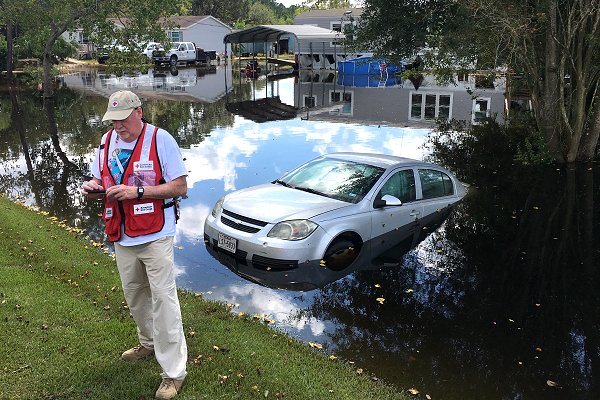 7 October 2019
A new rapid analysis by World Weather Attribution (WWA) scientists at the end of last month says the extreme rainfall and floods caused by Tropical Storm Imelda that affected Texas and Louisiana were made both more likely and more intense by global warming.
An analysis that included high-resolution climate modelling concluded that the very intense rainfall along the US Gulf of Mexico coast on 19–20 September was made 1.6 to 2.6 times more likely due to climate change, and up to 17 per cent more intense.
The study "highlights that climate change has clearly led to increased precipitation during extreme events in south-east Texas," the WWA group say.
"Coupled with sea-level rise, climate change has resulted in more frequent and intense flooding, especially in coastal areas," and together with urban expansion this had increased the number of people and the amount of property at risk.
'Extremely intense rainfall over relatively small areas'
After making landfall on 17 September, Imelda stalled north of Houston, the most heavily populated city in Texas, over the next two days, the scientists note.
While the storm was soon downgraded to a tropical depression, "intense banding contributed to several waves of heavy precipitation across the region", while its slow movement over south-east Texas "generated extremely intense rainfall over relatively small areas, so that the [precipitation was] even more exceptional in smaller areas."
US media said five people had lost their lives in Imelda-related floods, and the American Red Cross opened numerous shelters across the affected area and encouraged the public to follow flood-safety steps.
In 2017 the WWA group said climate change made the record rainfall that fell on Houston during Hurricane Harvey about three times more likely and 15 per cent more intense; the previous year, in a joint study with the National Oceanic and Atmospheric Administration, they said global warming increased the chances of the "historic heavy-rain event" that had caused deadly floods in Louisiana at least by 40 per cent.
American Red Cross volunteer Mark Escow in coastal Jefferson County, Texas during an assessment mapping of areas affected by Imelda. (Photo: American Red Cross Texas Gulf Coast via Twitter)