IPCC: Oceans and ice caps 'taking the heat' for climate change – the consequences for humanity will be sweeping and severe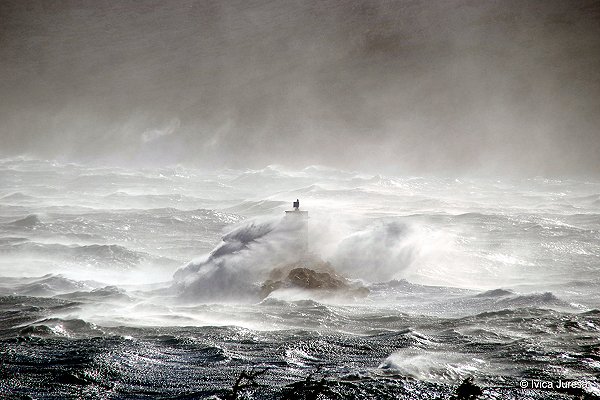 25 September 2019
(The Climate Centre today issued a lay person's guide in cartoon form to the IPCC oceans report. The IFRC's own Cost of Doing Nothing report was published last week in the run-up to the Climate Action Summit.)
The IPCC special report on the world's oceans and ice caps, which was released earlier today at a news conference in Monaco, "highlights the urgency of prioritizing timely, ambitious and coordinated action to address unprecedented and enduring changes in the oceans and cryosphere," a press release from the Intergovernmental Panel on Climate Change said.
The report details both the benefits of ambitious action on climate, in line with the 2015 Paris Agreement, and the rising risks that result from delayed action.
It says that because of past and current emissions the "ocean is warmer, more acidic and less productive. Melting glaciers and ice sheets are causing sea-level rise, and coastal extreme-events are becoming more severe."
IPCC Chair Hoesung Lee said: "The open sea, the Arctic, the Antarctic and the high mountains may seem far away to many people.
"But we depend on them and are influenced by them directly and indirectly in many ways – for weather and climate, for food and water, for energy, trade, transport, recreation and tourism, for health and well-being, for culture and identity.
"If we reduce emissions sharply, consequences for people and their livelihoods will still be challenging, but potentially more manageable for those who are most vulnerable."
                                'Rapid changes to the ocean and ice caps
                                are forcing people to fundamentally
                                alter their ways of life'
Compiled by more than 100 experts from 36 countries, the Special Report on the Ocean and Cryosphere in a Changing Climate is seen as a key scientific input for upcoming negotiations on climate, especially COP 25 in Chile in December.
"The world's oceans and cryosphere have been 'taking the heat' from climate change for decades, and the consequences for nature and humanity are sweeping and severe," said Ko Barrett, Vice-Chair of the IPCC.
"The rapid changes to the ocean and the frozen parts of our planet are forcing people from coastal cities to remote Arctic communities to fundamentally alter their ways of life," she added.
With declining glaciers, snow, ice and permafrost, people in mountain regions are increasingly exposed to hazards and changes in water availability, with implications for sectors such as agriculture and hydropower.
"This is projected to increase hazards for people through, for example, landslides, avalanches, rockfalls and floods," the IPCC release said.
Intense storms
Sea levels are now rising at 3.6mm per year, and this rate is accelerating; but there's a range of projections – and significant uncertainties – for sea levels in 2100 and beyond, depending on how ice sheets react to warming, especially in Antarctica.
The frequency of extreme sea-level events during high tides and intense storms will increase. The IPCC said: "Indications are that with any degree of additional warming, events that occurred once per century in the past will occur every year by mid-century in many regions, increasing risks for many low-lying coastal cities and small islands."
Some island nations are likely to become uninhabitable due to climate-related ocean and cryosphere change, the report says, "but habitability thresholds remain extremely difficult to assess.
"Increases in tropical-cyclone winds and rainfall are exacerbating extreme sea-level events and coastal hazards."
The press release adds that this is the first IPCC report to highlight "the importance of education to enhance climate change, ocean and cryosphere literacy".
Debra Roberts, Co-Chair of the IPCC's Working Group II that covers adaption, Wednesday said in an IPCC tweet: "The more decisively and the earlier we act, the more able we will be to address unavoidable changes, manage risks, improve our lives and achieve sustainability for ecosystems and people…".
                                                                                     *
People are adapting to the changing climate and this can significantly reduce some impacts, while others will persist even with major adaptation, writes Climate Centre Director Maarten van Aalst.
Given the magnitude of these issues, there are now likely to be mental health challenges in many affected communities.
Early-warning systems can manage some negative impacts, given good institutional arrangements, and people can make use of predictions of climate anomalies such as more extreme El Niños or marine heatwaves.
But the bottom line is that there are limits to adaptation: with limited warming, we may be able to cope with the rising risks; but as global warming progresses, some solutions, such as preserving the ecosystems that protect us, simply won't work anymore.
Some areas are going become uninhabitable due to climate change acting on the oceans and ice caps, as this report now clearly indicates.
The angry face of the sea, getting "warmer, more acidic and less productive," according to the IPCC. The photo, of the coast off Croatia's Rab island during an extreme 200 kph Bura wind, was entered for the WMO calendar contest this year. (2015 library photo: Ivica Juresa/WMO)