COP 26: Red Cross Red Crescent moderates key UK presidency event on loss and damage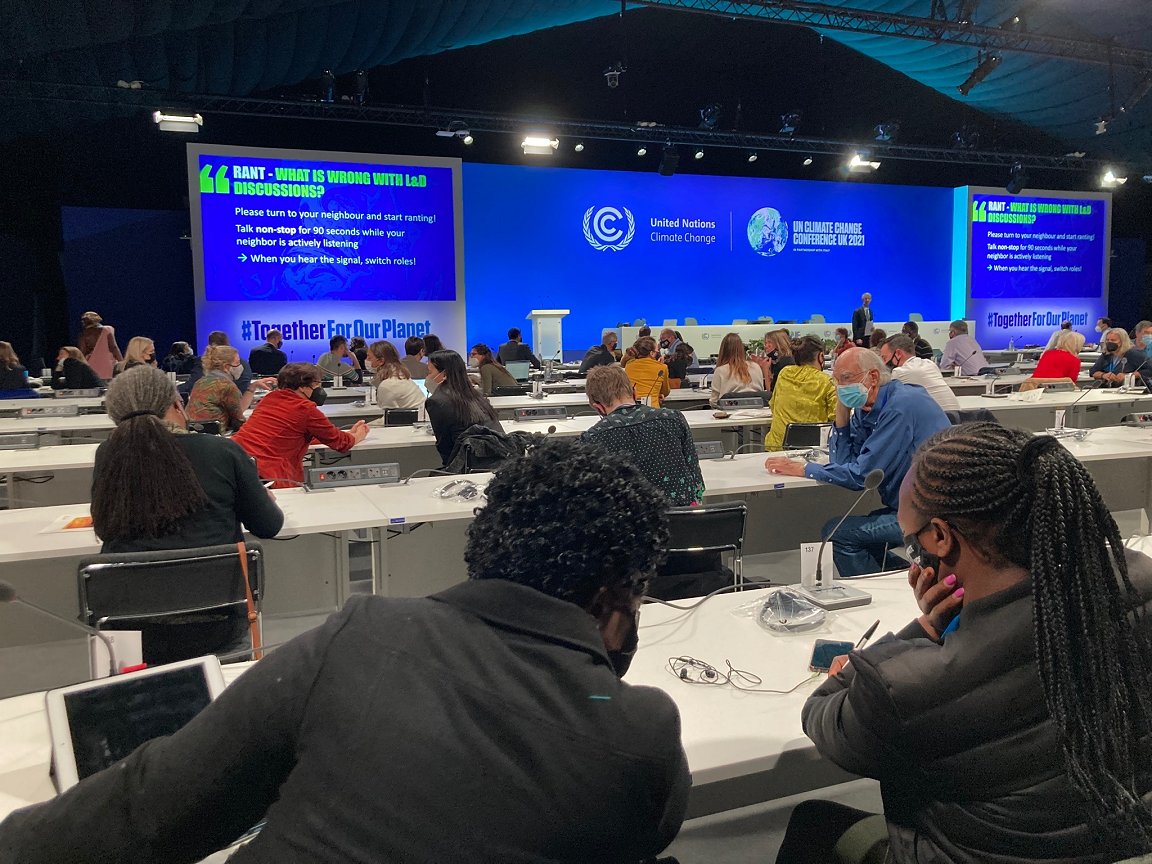 8 November 2021
by the Climate Centre
The Prime Minister of Barbados, Mia Mottley, today told a COP 26 event "there is no better measure that the world is still failing to understand the climate crisis than its failure to fund the mechanism for loss and damage."
She was speaking on the COP special day for adaptation, loss and damage at a UK presidency event moderated by the Red Cross Red Crescent in the shape of Climate Centre Director Maarten van Aalst.
The failure over loss and damage was a denial of the climate crisis, Ms Mottley added in a keynote address.

"It is a denial that 20 to 40 per cent of the world's population is already in the 'red zone'; it is a denial that the world's physical and biological systems are approaching a series of tipping points…it is a denial that the climate crisis impacts different latitudes in different ways."
Arguing that the front line of the climate crisis now lies between the Tropics of Cancer and Capricorn, Ms Mottley contrasted the losses incurred by Germany in this year's flash floods – less than 1 per cent of GDP, she said – and those suffered in the Caribbean in the devastating 2017 hurricane season that saw two Category 5 storms in two weeks.

"Dominica, hit by [Hurricane] Maria on September the 17th, lost 226 per cent of its GDP in four hours; Barbuda and St Matin had a similar fate of maybe different proportions, but still large."
Presenting ideas for how the rich world that had caused the problem could generate finance for loss and damage, Ms Mottley said "we need action now, not next year or the year after".
'We need to bridge the differences and,
quite frankly, think differently'
COP 26 President Alok Sharma, recently the UK Secretary of State for Business, Energy and Industrial Strategy, speaking immediately after Ms Mottley, recalling his own visit to the Caribbean earlier this year, said he had been shocked by the scale of the damage in Barbuda that still remained four years after Hurricane Irma.

Mr Sharma cited Red Cross data showing that "a staggering 1.7 billion people were affected by extreme weather disasters in the decade from 2010".
But there had been some progress in discussions on loss and damage in recent years, he added, and there was "a renewed determination to find solutions".
He added: "We all know we need to do more and we need to bridge the differences and, quite frankly, think differently…

"We have partnered with the Red Cross Red Crescent Climate Centre to take a new approach, to generate new ideas and new ways of thinking from the experts here today.

"Over this next year of the UK presidency, we will continue to drive this issue forward."
Maarten van Aalst then invited the COP 26 audience in Glasgow to pair off and "rant for 90 seconds" about all the things that frustrated them in the discussions on loss and damage.
'What is paramount is that we stop talking
and start providing support to those
suffering from irreversible impacts
that are beyond the scope of adaptation'
The Climate Centre's Associate Director Carina Bachofen, who helped organize the event and joined it virtually from the US, said some systems to support people did exist, such as insurance, social protection, and the humanitarian sector itself.
But the world now needed to "prevent the unmanageable by keeping warming under 1.5 degrees with stringent mitigation – vital to avert irreversible, systemic losses and damages for people and planet.

"We also need to step up ambition on adaptation to avoid loss and damage by, for example, supporting disaster risk reduction, building resilience, reducing poverty, strengthening governance structures and expanding space for local decision-making.
But thirdly, she added, "we must consider how to address and finance what is genuinely unavoidable loss and damage."
The session included two videos: a case study on the Solomon Islands by the International Institute for Environment and Development, and Timely Adaptation, by Climate Centre Innovation Lead Pablo Suarez.
Contributing to a segment of spontaneous reactions to cartoons, IFRC Secretary General Jagan Chapagain called for greater attention to the displacement caused by the climate crisis, which actually outweighed that caused by conflict.
He told the session: "Financing for displacement from the climate crisis is, of course, hugely, hugely insufficient.

"Most people are displaced within their countries – it's internal displacement – but still the economic impact among families but also on communities and countries is massive."
Jointly concluding the presidency event, Ineza Grace, Co-Director of the Loss and Damage Youth Coalition, said: "We are here in Glasgow during a time of climate breakdown and multiple overlapping emergencies.

"What is paramount is that we need to stop talking and start providing support to those already suffering from irreversible impacts beyond the scope of adaptation.

"If COP 26 is to be remembered for responding to the crisis, [now is the] time to start providing financial support to the people on the front line of the emergency."
Or as one speaker put it from the floor: "Anything else is beating about the bush."
Today's UK presidency event moderated by Climate Centre Director Maarten van Aalst and opened by the Prime Minister of Barbados, Mia Mottley, and COP President Alok Sharma. Participants rant for 90 seconds on what they think is wrong with international discussions on loss and damage. (Photo: @CathHaarsaker/Twitter)