An Australian face of climate change – 'we need to do more', says Red Cross CEO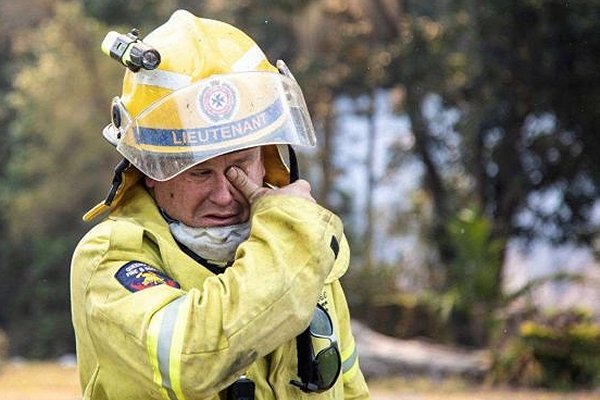 20 September 2019
The chief executive of the Australian Red Cross, Judy Slatyer, today said extreme weather events in Australia are becoming more frequent, intensive and interconnected.
"In Australia there have been steadily growing investments in preparing for extreme-weather events, yet there is much more needed to reduce the human impact of climate-related disasters," she told the Sydney Morning Herald, shortly after the release in New York of the new IFRC Cost of Doing Nothing Report.
The International Federation's Faces of Climate Change campaign was also launched earlier this week.
Ms Slatyer added that Australia itself has an important role to play in reducing the impact of climate-related disasters in the Asia Pacific region and globally.
She today tweeted that "the cost of doing nothing is profound. Climate change is among the biggest humanitarian challenges society faces.
"We are working to help communities and people prepare and adapt. But we need to do more."
'Hotter drier conditions leading to longer,
more intense heatwaves,
droughts and higher fire danger'
Many thousands of school students and workers, meanwhile, gathered in Australian towns and cities Friday, among the first worldwide to join the global climate strike because of the country's time zone.
Organizers estimated that 300,000 Australians gathered at climate change rallies around the country "in one of the largest protest events in the nation's history", ABC News reported.
Events were held in all eight state capitals and more than 100 other centres.
"Every day at Australian Red Cross, we witness the human impacts of extreme weather," the National Society's website says.
"In particular, we see the detrimental health and social impacts brought on by more frequent and intense disasters and crises."
The Red Cross says higher temperatures, lower rainfall, more storms and stronger wind speeds are becoming the new normal, adding that "[h]otter and drier conditions will lead to longer, more intense heatwaves, droughts and higher fire-danger (photo)."
An exhausted firefighter in Queensland during the latest wildfires last month, one of several climate-related hazards which the National Societies helps people prepare for via its dedicated apps and checklists. (Photo: Queensland Fire and Emergency Service)