Elhadj As Sy on #AdaptOurWorld report: Invest in climate adaptation, pay less later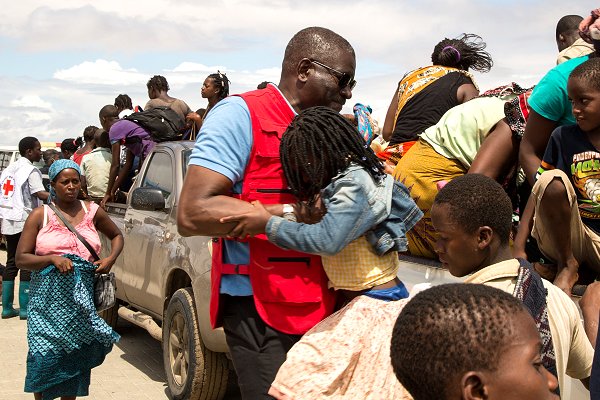 11 September 2019
IFRC Secretary General Elhadj As Sy yesterday called for greater "political will" to tackle the climate crisis and substantial investment now to avoid still greater costs in the near future.
"The climate crisis is already here," said Mr Sy in a video message issued to coincide with the publication of a report calling for urgent action from world leaders from the Global Commission on Adaptation (GCA). "Some of the effects are dramatic; others are less noticeable – for now.
"But we are all at risk of increasing food insecurity, water stress and a rise in diseases like dengue and malaria. It is indeed a humanitarian emergency."
My Sy said he wanted all Red Cross Red Crescent societies to be prepared for, and protected from, the impacts of the climate emergency. "Join us," he said, "in calling on leaders to accelerate adaptation efforts around the globe."
Political will
Also yesterday, Mr Sy said in a BBC interview that the US$ 1.8 trillion of investment called for by the GCA was a "big amount", but such investment now would "prevent us having to invest much more in ten, twenty or fifty years time".
Calling for increased political will to tackle climate, Mr Sy said it was "a combination of many arguments that was needed. We need science; the science is giving us the facts and the understanding and we need to propagate that understanding at all levels."
The GCA report – Adapt Now: A Global Call for Leadership on Climate Resilience – was launched yesterday in at least ten major cities worldwide.
It says investing US$ 1.8 trillion globally from 2020 to 2030 in five areas – early warning, infrastructure, dry-land agriculture, coastal mangroves, and water – could yield US$ 7.1 trillion in benefits.
"The report is being released as climate impacts such as super-charged hurricanes, floods, and wildfires are becoming an increasingly urgent reality," a GCA press release said.
"As recent events have shown, climate change affects people everywhere [and] without action, millions…will be pushed further into poverty, leading to increased conflict and instability."
The GCA report argues that adaptation delivers a "triple dividend", avoiding future losses while generating economic gains through innovation as well as social and environmental benefits.
'Some of the effects are dramatic;
others are less noticeable – for now'
The Netherlands-based Global Commission on Adaptation was formally launched last October "to bring scale and speed to climate adaptation solutions."
Led by former UN Secretary-General Ban Ki-moon and co-chaired by World Bank CEO Kristalina Georgieva and Bill Gates, it now comprises 20 convening countries and 31 commissioners, including the IFRC Secretary General.
"Climate change doesn't respect borders," said Mr Ban yesterday. "It's an international problem that can only be solved with co-operation and collaboration, across borders and worldwide.
"It is becoming increasingly clear that in many parts of the world, our climate has already changed, and we need to adapt with it.
"Mitigation and adaptation go hand-in-hand as two equally important building blocks of the [Paris Agreement]."
Action track
Among the adaptation projects highlighted in the GCA report is one in Zimbabwe in which farmers using drought-tolerant maize harvested up to 600kg more per hectare – a surplus able to feed a family of six for nine months and generate US$ 240 in income.
The IFRC is a formal GCA partner for its 'Preventing disasters' action track – one of eight detailed in the #AdaptOurWorld report – that combines scaled-up early warning, forecast-based financing and climate-oriented social protection.
The GCA says this action track will be a "key delivery mechanism" for the Risk-Informed Early Action Partnership, and it plans to announce a year of action at a 24 September event hosted by the Dutch government at the UN in New York.
IFRC Secretary General Elhadj As Sy helps a child evacuee off a pick-up truck as people arrive from storm-hit Buzi in Beira port, Mozambique earlier this year after Cyclone Idai. He yesterday called for greater investment in climate protection now to save even bigger costs in the future. The UN said in March that devastation in and around Beira – where vast areas were flooded – was "a clear demonstration" of climate change adding to a cocktail of risk rooted in poverty, unplanned urbanization and environmental degradation. (Photo: Denis Onyodi: IFRC/DRK/Climate Centre)