National Societies quick off the mark in Southern Africa for Cyclone Ana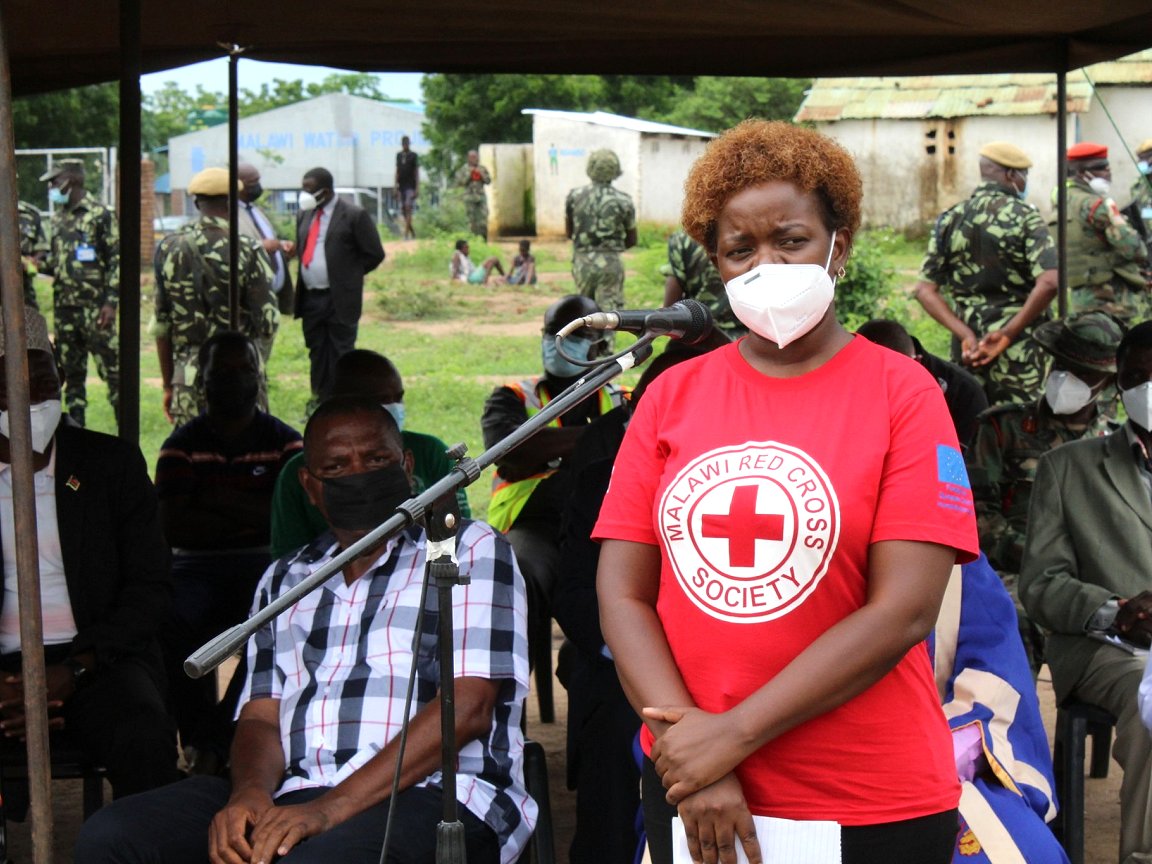 1 February 2022
by the Climate Centre
The agility of Red Cross societies and their international partners helped to blunt the impacts of Cyclone Ana late last month, as it tracked east to west across Madagascar, Mozambique and Malawi, leaving tens of thousands of people homeless and nearly 100 dead, according to media reports.
On 18 January, with a red alert in force for the capital, Antananarivo, Malagasy Red volunteers mobilized to assist people who had been evacuated to 12 storm shelters after heavy rain ahead of the storm caused floods and landslides.
The Madagascar National Society was also providing tents, stretchers and pumps at the shelters, established by the country's Bureau National de Gestion des Risques et des Catastrophes.
Nearly a week later, and with the Antananarivo red alert is still in effect, nearly 56,000 people were in temporary shelters in the Analamanga region that includes the capital – five of which were managed by the Malagasy Red Cross; three major Malagasy river basins were affected by the floods.
Also on 18 January, the Mozambican National Delegation of Hydraulic Resources Management issued a flood-risk alert for increased rainfall from the 25th for nine river basins and three coastal areas, the IFRC reported.
'Stock movement'

Three days later the International Federation issued an imminent-disaster DREF worth just over 140,000 Swiss francs as the Mozambique Red Cross prepared for a "worst-case scenario".
Last Wednesday, two days after the storm made landfall, the IFRC issued a further DREF for just over 110,000 Swiss francs for the Red Cross to activate an established early action protocol for floods to "mitigate the impacts…on the most vulnerable population".
CVM Secretary General Cristina Uamusse said in a press release issued the same day: "We have been working with communities for many years and have seen what a significate difference pre-positioned stock movement from provinces to districts makes on our response time to community needs.

"Anticipatory actions mean taking steps to protect people before a disaster strike based on early warning or forecasts – something we aimed to do to lessen the affects which Tropical Storm Ana will have on those in its path."
Naemi Heita, Acting Head of the IFRC Maputo Cluster Delegation, said: "Preparedness is key; it lessens the impact of disasters on the vulnerable families and communities, and we are proud to have a National Society that has been putting preparedness measures in place through its committed staff and volunteers on the ground in anticipation of this storm."
Boats

The previous Sunday 23 January, with Ana still off the Mozambique coast, the Malawi Red Cross Society said it had been receiving support from its Danish Red Cross partners to "reach out to communities [in Chikwawa district] with early warning messages about the tropical depression expected to affect" the country.
Then all last week, MRCS volunteers battled to get through to communities cut off by floodwaters while aquatic search and rescue teams trained by the National Society were filmed using boats to rescue people who had taken refuge on the roofs of their houses.
The IFRC tweeted today that its Disaster Relief Emergency Fund has now allocated a total of more than 900,000 Swiss francs to assist communities affected by the floods and heavy rains across Southern Africa.

"More than ever, they need effective local assistance to prepare and respond to these emergencies on the front line of climate change," it said.
MRCS Director of Programmes, Prisca Chisala, today appealing for support from "donors, partners and well-wishers" to support the society's disaster-response plan to reach more people affected by Ana "as thousands are in dire need". (Photo: MRCS via social media)