IPCC report on climate and land 'confirms our worst fears'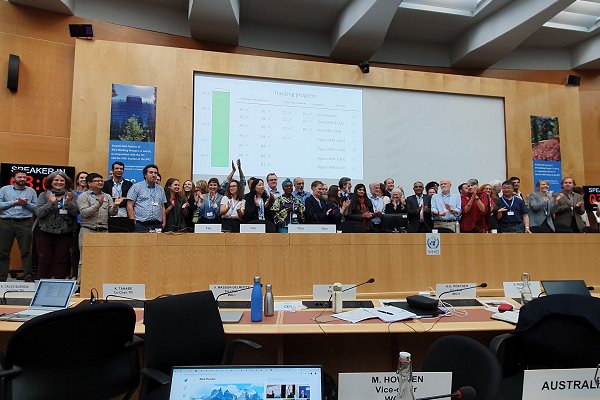 8 August 2019
A report out today from the Intergovernmental Panel on Climate Change (IPCC) says climate change is adding to human pressure on land, and sets out options to prevent it being degraded and ways more sustainable use of land could help prevent, or adapt to, climate change.
The Special Report on Climate Change and Land, approved by governments in Geneva yesterday (photo), says keeping global warming to well below 2ºC under the Paris Agreement can be achieved "only by reducing greenhouse gas emissions from all sectors including land and food," an IPCC press release said.
The special report, described as the most comprehensive to date on the subject, is one of three the IPCC is preparing as part of the current assessment cycle on the global climate known as 'AR6'.
Sustainable food offers 'major opportunities
for adaptation to and limiting climate change'
"Governments challenged the IPCC to take the first-ever comprehensive look at the whole land-climate system," said IPCC Chair Hoesung Lee.
"We did this through many contributions from experts and governments worldwide…the first time in IPCC report history that a majority of authors – 53 per cent – are from developing countries."
The report shows how managing land sustainably can help address climate change, said Hans-Otto Pörtner, Co-Chair of IPCC Working Group II. "Land already in use could feed the world in a changing climate and provide biomass for renewable energy, but early, far-reaching action across several areas is required."
'Very high risks'
The IPCC says roughly 500 million people live in areas experiencing desertification that are also more vulnerable to drought, heatwaves, and dust storms, with an increasing global population creating further pressure.
"New knowledge shows an increase in risks from dryland water scarcity, fire damage, permafrost degradation and food-system instability, even for global warming of around 1.5°C," said Valérie Masson-Delmotte, Co-Chair of IPCC Working Group I.
"Very high risks related to permafrost degradation and food-system instability are identified at 2°C of global warming," she added.
IFRC President Francesco Rocca tweeted that the report "confirms our worst fears" and called for a "global political agreement to face the climate emergency". He said: "Acting now is critical: we cannot waste time."
The IPCC report explains that climate change is affecting all of what are regarded as the pillars of food security: production, price, use and supply.
"Food security will be increasingly affected by future climate change through yield declines – especially in the tropics – increased prices, reduced nutrient quality, and supply chain disruptions," said Priyadarshi Shukla, Co-Chair of the IPCC's Working Group III.
Vegetation
Debra Roberts, also Co-Chair of IPCC Working Group II, said plant-based foods like coarse grains, legumes, fruits and vegetables, and animal-sourced food produced sustainably present "major opportunities for adaptation to and limiting climate change."
The IPCC press release points out that land must remain productive as the population increases and the negative impacts of climate change on vegetation increase, meaning there are limits to the contribution land can make to addressing climate change through crops grown for fuel and afforestation. 
"Bioenergy needs to be carefully managed to avoid risks to food security, biodiversity and land degradation," it said.
The Climate Centre's Manager, Climate Science, Erin Coughlan de Perez, said: "Coherent packages of policies can address all aspects of the food system, promoting efficient and sustainable production, dignified livelihoods and healthy diets while reducing food loss and waste."
The IPCC special report on land and climate is adopted by the world's governments in Geeva yesterday. It sets out ways options to prevent land being degraded and ways more sustainable use of land could help prevent, or adapt to, climate change. (Photo: @ProfMarkHowden)