Hugo Slim on the future of ICRC partnerships amid conflict, disaster and 'an escalating climate crisis'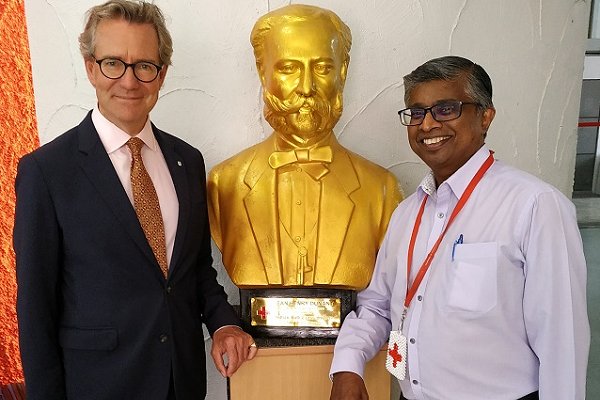 5 August 2019
The ICRC late last week published the full text of the talk by its Head of Policy, Dr Hugo Slim, at the 5th Singapore Red Cross Humanitarian Conference on "partnerships and volunteerism for humanity".
Paying tribute to the Singapore Red Cross (SRC) in its 70th anniversary year, Dr Slim said the National Society had much to be proud of, with many humanitarian achievements to its name.
It continued "to be an impressive organization that is highly focused and effective within Singapore around the world."
Arguing that humanitarian work is "never a solo performance [and] always relies on mutual support of various kinds," Dr Slim said the SRC and the ICRC were this year both "reminding ourselves of the important truth of partnership".
The International Committee's new institutional strategy has partnership as a major objective, he added, for three main reasons.
Ongoing conflicts meant the help and support of others was needed to have a stronger impact on the lives of people struggling to survive, often over decades.
Secondly, he said, the "escalating climate crisis will mean a large expansion of human needs in the years ahead and make humanitarian action more even more complicated and reliant on partnerships."
And it was both "ethically right and operationally effective" to work more in partnership with local and national organizations which are closer to affected people or organized by them."
'The Federation's deep knowledge in the
policy and practice of climate change response,
disaster risk reduction and adaptation
needs to become central to our work'
Drawing on recent literature reviews carried out by the ICRC, Dr Slim then went into detail on some key questions centred on partnership: what exactly it is, how it can be done well, and what it looks like in practice for the ICRC now and in the future.
What he called the ICRC's "family partnerships" with other components of the Red Cross Red Crescent Movement were "deep, longstanding and complementary, even if they sometimes involve an asymmetry of power and resources in ICRC hands which do not meet conditions of equality and mutual added value and can be frustrating to National Societies."
But he added that National Society branches and volunteers "typically extend the reach and scale of the ICRC by increasing our 'operational surface' dramatically.
"The face-to-face work of thousands of volunteers who lead much of the inter-personal contact in relief distributions, health services and restoring family links gives the Movement's work a personal intimacy and cultural affinity which the ICRC could never achieve alone.
"It is here, in the real proximity of volunteers and victims together, if it is handled well, that the Movement achieves its profound inter-personal partnerships of humanitarian care."
'Climate-risk skills'
On climate, Dr Slim said the IFRC and its Climate Centre were jointly "becoming an increasingly important partner to the ICRC as we too engage with people's experience of the double effects of conflict and climate shocks on their lives.
"The Federation's deep knowledge in the policy and practice of climate change response, disaster risk reduction and adaptation now needs to become central to the way we work."
He added that the ICRC's "current partnership with the Climate Centre as we build policy, expertise and network on climate-risk response is already proving mutually transformative: we need to learn climate-risk skills, and the Climate Centre needs to better understand the combined effects of conflict and climate."
Dr Slim also detailed the ICRC's work on missing people in countries like Georgia, Nepal, Peru, Kosovo and Colombia, and especially Kuwait – "one of many diplomatic partnerships we have with states that pursue common goals in humanitarian diplomacy."
'Elephant to fox'
The ICRC's engagement with the World Bank, for example, was "a major institutional partnership intended to…improve each other's operational reach, expertise and policy and diplomacy on areas affected by conflict, violence and fragility."
And an "early-stage process" with ASEAN had taught the ICRC "the importance of a resilience approach to disasters in South-East Asia, and the priority of sovereignty, national leadership and local agency in the provision of humanitarian action."
The International Committee, he concluded, could form partnerships that were yet more effective if delegations and HQ teams thought strategically about "areas which would really benefit from transformational partnership and invest in making these work well."
He said the ICRC needed "to be ready to change and to share power more than we cling to power," by sharing, listening, "creating level playing fields…and transforming from an elephant into a fox."
Developing skills and metrics "fit for partnership", he said, meant "changing attitudes and processes so that we are better able to work with others and to appreciate the outcomes we generate together, and not just the things we deliver on our own as the ICRC."
Dr Hugo Slim with the Singapore Red Cross Secretary-General Benjamin William at July's Singapore Red Cross Humanitarian Conference; between them a bust of Red Cross founder Henry Dunant. (Photo: ICRC)