Reflections on half a decade of 'leveraging science for humanitarian decision-making'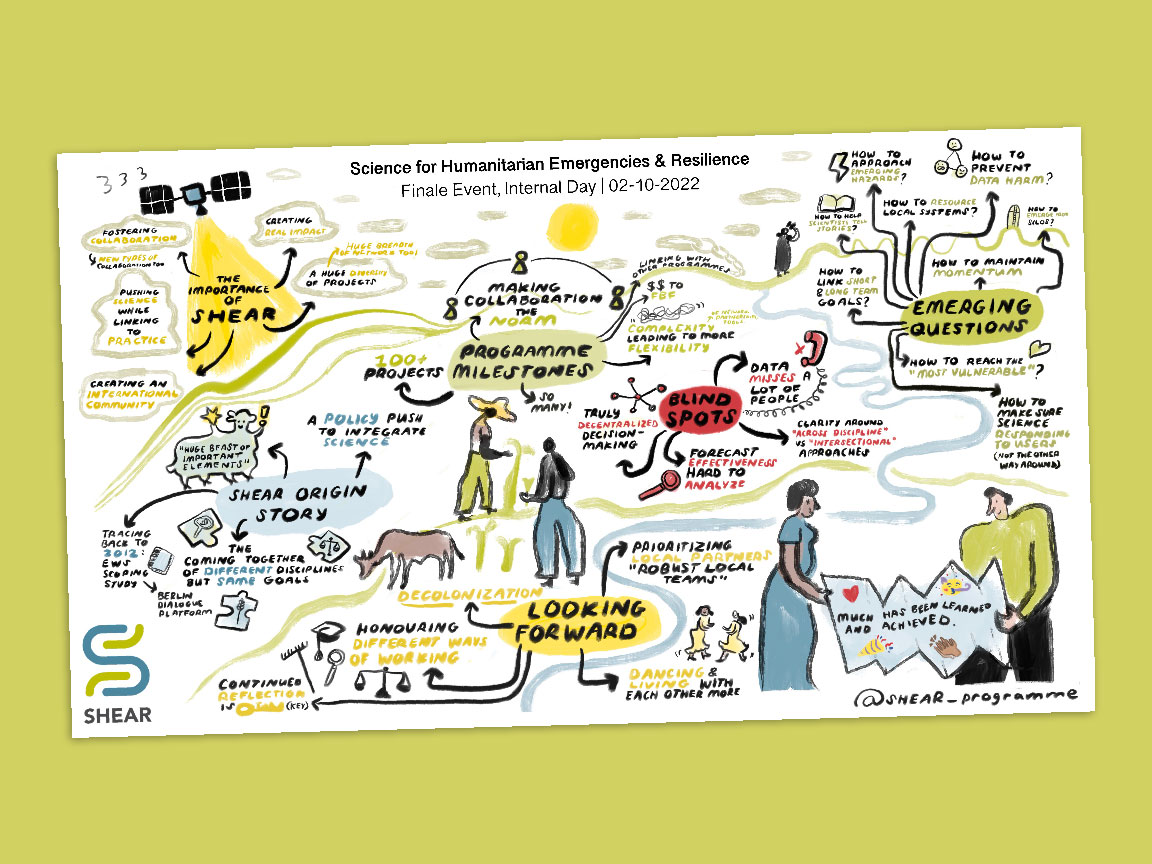 13 February 2022
by the Climate Centre
Five years of work by the Science for Humanitarian Emergencies and Resilience programme was marked at a two-day online event at the end of last week (video), coinciding on Friday with the 11 February International Day of Women and Girls in Science.
The final SHEAR event celebrated "our achievements, finding common ground and charting the way forward," organizers said.
A day of internal reflection by SHEAR partners on Thursday was followed by a public event Friday at which stakeholders and decision-makers discussed "pressing humanitarian-science questions", highlighting new knowledge and headline results generated by the programme.
SHEAR is an international research programme jointly funded by the UK Foreign, Commonwealth and Development Office (FCDO) and the Natural Environmental Research Council (NERC).
Research projects

It aimed to help improve disaster resilience and humanitarian response through better "monitoring, assessment and prediction of natural hazards and risks" in sub-Saharan Africa and Asia, including some of the most hazard-prone and vulnerable parts of the world.
Entitled Common Ground 2022, Friday's four-hour event showcased more than 60 individual research projects in at least 20 countries around the world, incorporating nearly 70 different partnerships.
Opening addresses came from Tim Sumner of the FCDO's Research and Evidence Directorate, the focal point for SHEAR within the UK government, and Wendy Matcham, NERC Head of Resilient Environment.
Fleur Monasso also gave a welcoming address as Manager, Capacity Strengthening and Partnerships at the Climate Centre, which leads on knowledge management for SHEAR together with Practical Action.
The Climate Centre's Dorothy Heinrich contributed a presentation on "SHEAR at a glance", followed by a keynote address from Kara Siahaan, Head of the Anticipation Hub, on the importance of science for the humanitarian and resilience communities.
Landslides

Three parallel sessions on Friday covered the conceptualization disaster-risk, SHEAR-related advances in impact-based forecasting, and new tools for building climate resilience.
The second of these was jointly hosted by Martin Todd of the SHEAR ForPAc project, and Dr Liz Stephens, Associate Professor of Climate Risks and Resilience at the University of Reading, who leads on the science underpinning anticipatory action at the Climate Centre.
One important area of focus for SHEAR was early warning for landslides, and the relevance of this work was brought sharply home earlier last week when torrential rain caused a hillside to collapse onto homes in the Colombian city of Pereira, killing at least 14 people and triggering a major response by the Colombian Red Cross.
Recent SHEAR briefs over the past year have also encompassed data, tools such as algorithms, apps, hardware and maps, impact-based forecasting, social protection, anticipatory action for drought, and a selection of impact stories.
Visual notes by artist Rebeka Ryvola de Kremer on SHEAR's Common Ground 2022: "A walk with this 'huge beast of important elements' through its five years of life – stories and data to reflect on, and experiences to take forward into the next chapter of leveraging science for humanitarian decision-making." (Image: Rebeka Ryvola de Kremer)