Four European countries set new temperature records in second 'historic' heatwave of the summer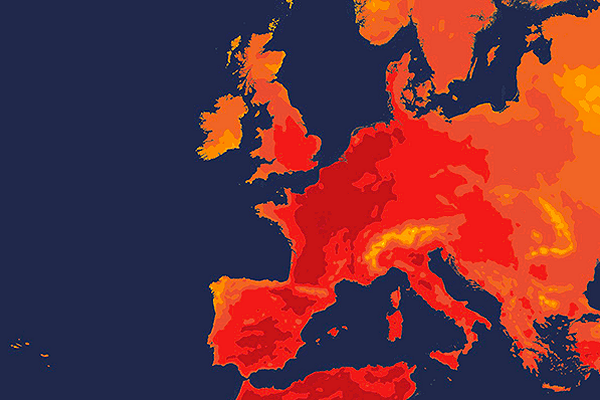 26 July 2019
For the second time in a month, Western Europe has experienced an intense heatwave that saw national temperature records broken in Belgium, France, Germany and the Netherlands, with many National Societies again prominently flagging their public-health guidance on how to stay safe in extreme heat.
The new records were 42.6°C in Germany, 41.8 °C in Belgium, 40.8°C in Luxembourg, and 40.7 °C in the Netherlands, the World Meteorological Organization (WMO) reported; Paris registered 42.6°C, also a record for the city.
The German weather service, Deutscher Wetterdienst, described 25 July as a day that will make weather history.
The UK Met Office reported the hottest July day on record in Britain, and a new Scottish record for the highest overnight low of 20.9°C at Achnagart, in the north-west.
'This temperature is typical of Baghdad in July' 
In a press release yesterday, the WMO described the heat as "widespread and intense [with] disruption to transport and infrastructure and stress on people's health and the environment."
The current event follows an unusually early and intense heatwave last month, which made it the hottest June on record for the continent, with average temperatures 2°C above normal.
It was also the warmest June globally, the WMO said, with severe wildfires even in the Arctic.
'All threatened'
"Such intense and widespread heatwaves carry the signature of man-made climate change," said Johannes Cullmann, Director of WMO's Climate and Water Department.
"This is consistent with the [recent] scientific finding showing evidence of more frequent, drawn-out and intense heat-events as greenhouse gas concentrations lead to a rise in global temperatures."
The IFRC earlier this month issued a new guide to help city authorities deal with heatwaves, whose impacts tend to be worse in built-up areas.
The new absolute record of 42.6°C for Paris was recorded at the weather station in Paris-Monsouris, and broke a July 1947 record of 40.4°C.
"This temperature is typical of the average July temperature in Baghdad," the WMO said.
France set a new national temperature record of 45.9°C on 28 June, and it was only the second time Méteo France has issued a red alert for a heatwave in France – the first again being last month.
"All of us are threatened, even healthy people," WMO quoted Météo France as saying.  
Forecast heat across Western Europe for 25 July; the darker the hotter. (Graphic: BBC Weather)