Temperature records again set to be broken amid dangerous new European heatwave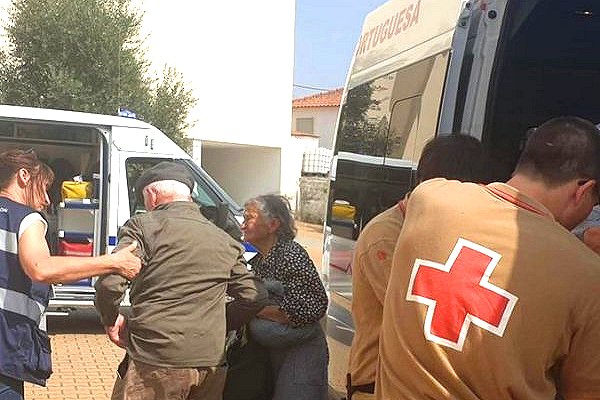 23 July 2019
At least yellow alerts for extreme heat were in force as of midday Tuesday in nearly 20 European countries, according to EUMETNET, with a red alert in parts of north-eastern Spain.
Across the continent Red Cross societies have been flagging their online guidance on how to stay safe during heatwaves, again in Spain, for example.
In Portugal, where wildfires have been raging for several days, the Portuguese Red Cross has deployed 13 emergency-relief units and 70 volunteers, including medical staff, to assist people affected (photo).
A forecast of the fire danger for the whole of south-west Europe through this Saturday is available from the Copernicus Emergency Management Service.
The IFRC yesterday announced its own climate experts were available to the media to discuss the potential humanitarian impact of this week's latest dangerous European heatwave, as well as the "simple and affordable steps that can be taken to protect lives".
38°C?
Temperatures are expected to climb to record levels over the next few days, "placing huge pressure on health and social welfare-systems across the continent," the IFRC said, and "potentially threatening the lives and well-being of vulnerable people."
The UK Met Office today tweeted that it was expecting "to break temperature records this week" amid widespread heat; it was forecasting a high of 38°C on Thursday in south-east England.
The Red Cross experts can also discuss the links between climate change and heatwaves and detail findings from the IFRC's new Heatwave Guide for Cities.
They include one of the authors of the guide, Julie Arrighi, the Climate Centre's Urban Manager and ICRC Partnership Lead, who is in the US, and Geneva-based Tessa Kelly, IFRC Climate Change Coordinator.
(Media contact: Alison Freebairn, Geneva, M +4179 2519333)
Portuguese Red Cross volunteers helping elderly people affected by this week's wildfires. South-west Europe in particular is again facing record-breaking temperatures and a heightened danger of fires. (Photo: @cvpsedenacional via IFRC)