IFRC: Severe flooding puts more than 4 million people in Bangladesh at risk of food insecurity and disease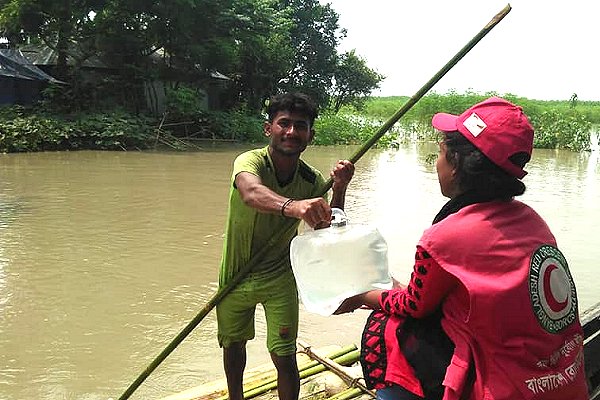 19 July 2019
(This story is an IFRC press release issued earlier today. With support from the German and Swiss Red Cross in-country, the Red Crescent was this week also preparing cash grants for up to 1,000 potential flood-affected families in Kurigram and Gaibandha districts under forecast-based financing.)
Days of severe rains have battered northern and south-eastern Bangladesh, putting more than 4 million people at risk of food insecurity and disease.
Floods and landslides have damaged roads and vital infrastructure leaving hundreds of thousands stranded and without power and electricity. More than 66,000 homes have been destroyed.
Food and clean water shortages are being reported, as well as a rise in waterborne diseases.
Azmat Ulla, the Head of the Bangladesh Office of the International Federation of Red Cross and Red Crescent Societies (IFRC) said: "These communities are reeling under the full force of the monsoon rains and the ensuing floods and landslides.
"Even if the rains recede, overflowing rivers upstream will worsen the flooding in the coming days."
Food crops are under threat of being wiped out by floods across major farm land. There are fears that destruction of crops may lead to food shortages.
Those most at risk include children, breastfeeding mothers, pregnant women, and the elderly.
Rapid assessments
The Bangladesh Red Crescent Society (BDRCS) has mobilized 675 volunteers to support communities in the flood-affected districts.
In addition to carrying out rapid assessments, teams are distributing food, clean water, hygiene kits and tarpaulins to families whose homes were destroyed or damaged by the landslides.
Md. Feroz Salah Uddin, BDRCS Secretary General, said: "Tens of thousands of homes have been destroyed which puts people further in the direct path of dangerous floods.
"We are seriously concerned about access to the affected populations. A critical priority for Bangladesh Red Crescent volunteers right now is to reach these stricken communities with relief supplies."
In response to the heavy flooding IFRC has just released 452,439 Swiss francs from its Disaster Relief Emergency Fund that will allow the BDRCS to provide food, relief items and cash for 10,000 of the most affected families living in the worst-hit districts.
                                                                                  *
It's difficult to make a single generalization about human influence on the climate in all of Asia, writes Professor Maarten van Aalst, Climate Centre Director.
There are many differing sub-regions, and some countries have been studied more intensively than others, but there was a large measure of agreement in the most recent global assessment from the IPCC ('AR5') that increases in precipitation extremes related to the monsoon are very likely in future in East, South, and South-East Asia.
A large majority of scientific models, for example, show both an increase in average precipitation and in especially intense single events in East Asian summer monsoons.
All models and all scenarios also project an increase in both the mean and extreme precipitation in the Indian summer monsoon.
The respected Carbon Brief website, in addition, has identified a cluster of academic studies showing climate change has significantly increased the chances of extreme monsoon precipitation in China, which of course is what that country's experts have recently been indicating.
In Tangail district, Bangladesh Red Crescent volunteers are using rafts to carry safe drinking water to people stranded by floods that may have already affected more than 4 million. (Photo: BDRCS)