WMO: 'Visible and increasing urgency of climate action' in focus at the UN Abu Dhabi climate meeting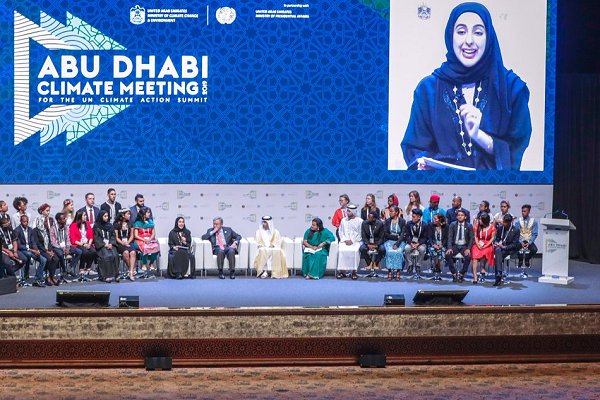 1 July 2019
After a week in which much of Europe was engulfed by extreme heat, the World Meteorological Organization said the "visible and increasing urgency of climate action" would be in focus at the UN Abu Dhabi Climate Meeting where IFRC Secretary General Elhadj As Sy pressed for greater protection from climate impacts for the world's vulnerable.
A WMO press release Friday said with Earth set to experience its five warmest years on record from 2015–19, humanity would see "ice melt, glacier retreat, sea-level rise, ocean heat and extreme weather for generations to come."
Heatwaves continued to increase in frequency and intensity across the globe, it added, with last week's unusually early heatwave in Europe – including a modern-era temperature record of 45.9°C in France – "just the latest in a series of extreme-weather events".
Temperatures had also reached 50°C in India, Pakistan and parts of the Middle East in recent weeks.
'None of us is safe until we all are'
The two-day international meeting in Abu Dhabi ends today; it gathered national and local government, the UN system, civil society and youth, and was intended to take stock of progress in action areas in the run-up to the UN Secretary-General António Guterres's Climate Action Summit in September.
"Solutions exist", Mr Guterres told the meeting. "What we need is a rapid and deep change in how we do business, generate power, build cities and feed the world."
In his address, Mr Sy said: "We are not all equal in the face of climate-induced disaster." Women, the very young and very old, and people living with disabilities were disproportionately affected or out of sight or both.
As far as health impacts and infectious diseases were concerned, he added, "none of us is safe until we all are, in today's global and interconnected world".
Sea ice
National Societies in many European countries were last week flagging now-standard online advice on how to stay safe in the first heatwave of the year, which has now abated with Meteoalarm red alerts in force only in two areas of southern Switzerland Monday.
The IFRC last week appealed for the public to check on vulnerable neighbours, relatives and friends.
The WMO press release said "we are on track for 2015–19 to be the warmest five years on record [and the] warming trend continues unabated so far in 2019 and the months January to May were the third warmest such period on record."
It quoted the US National Snow and Ice Data Center as saying that in May the extent of Antarctic sea ice was the smallest on record and Arctic ice the second smallest.
Elhadj As Sy is a member of the Global Commission on Adaptation, where he is leading an initiative on preventing extreme weather from becoming disasters; he has argued for governments to urgently increase investment in adaptation measures designed to support the most vulnerable. 
The youth consultation at the start of the UN climate meeting in Abu Dhabi yesterday. "Our children and grandchildren are on the streets calling on us to save humanity," IFRC Secretary General Elhadj As Sy told the meeting. (Photo: social media)