Implementing cash transfers through social protection in Nepal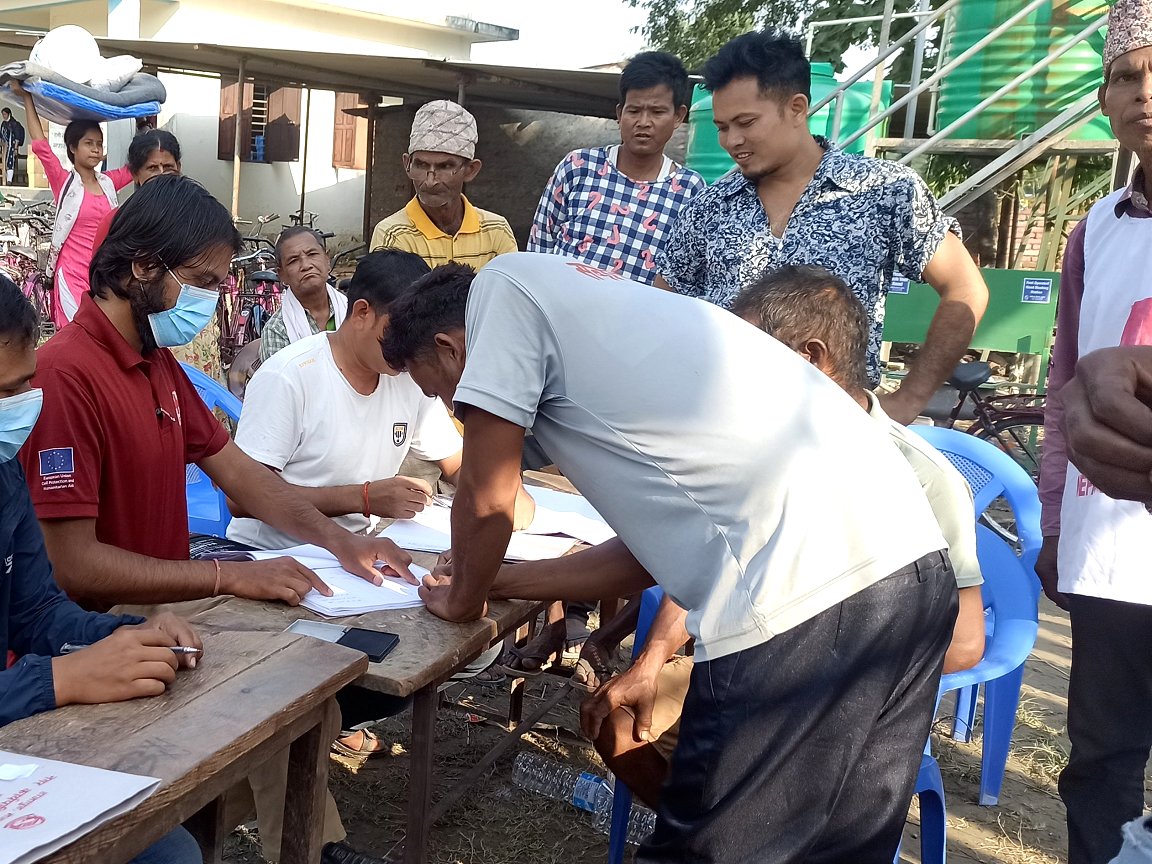 7 March 2022
By Sajanika Sivanu and Sayanti Sengupta, Climate Centre, Germany,
and Alina Karki, Danish Red Cross, Nepal
The Nepal Red Cross Society (NRCS) says it plans to capitalize on last year's experience with simulated and real cash-interventions around two flood-peaks to continue work with local authorities to strengthen social protection and early action for climate-related hazards.
With an eye on the forthcoming monsoon season, efforts are now underway to implement cash relief with pre-loaded debit cards, while also taking advantage of the prime minister's employment programme – a public works scheme – to implement early action.
"The NRCS will continue to advocate for policies that make it favourable for social protection programmes to be leveraged to take immediate humanitarian actions on a large scale," said Bipul Neupane last week, Director for Disaster Management at the National Society.

"Based on our experience from the floods last year, we will continue to work with local government to translate these policies into actions and scale up these practices across Nepal, so that we reach the most vulnerable individuals and groups with our support in a timely and cost-effective manner."
Funds

After a serious flood episode in late August 2021, a simulation was conducted in Bardiya and Kailali districts to test early actions and assess the feasibility of leveraging Nepal's existing Social Security Allowance (SSA) programme, essentially linking SSA components to forecast-based action.

This included using SSA bank accounts for cash transfers, sending bulk text messages to beneficiaries, scoping the use of SSA databases for actions such as early harvesting and evacuation, and demonstrations to local government.
This September simulation was part of an NRCS project for forecast-based action that's responsive to climate shocks in Sudhur Paschim and Lumbini provinces, supported by the European Commission through the Danish Red Cross, Humanity and Inclusion, and the Climate Centre.
Less than a month later, in two municipalities in Kailali that were among many facing further devastating floods countrywide, the Danish Red Cross mobilized the necessary funds to support the NRCS in operationalizing multi-purpose cash transfers.
The Red Cross worked with affected municipalities and the Department of National ID and Civil Registration to establish the process.
Text messages were sent to SSA beneficiaries whose homes had been damaged or destroyed announcing a transfer to them of 13,500 Nepalese rupees (100 euros) in their SSA bank accounts – judged enough to meet basic needs for a month.
Women's cooperatives

"The EU's long-standing support to strengthen government and NRCS's response capacities became instrumental to provide a quick response to [the October] flood by conducting [initial rapid assessment] within 24 hours of the disaster to assess damages and identify immediate needs," the National Society tweeted.
The Red Cross has also highlighted the potential of working with women's cooperatives to support uptake of the prime minister's employment programme by women during flood shocks, while combining flood-risk assessments and SSA registers is also being explored to identify overlaps and ensure better coverage.
The SSA programme, Nepal's largest cash transfer intervention, reaches 3.4 million individuals such as the elderly, people with disabilities, under fives, single and widowed women, and endangered communities.
Monsoon floods and landslide affected more than 70 districts across Nepal from June to September last year; the IFRC issued a DREF grant of just over 320,000 Swiss francs at the beginning of September, increased to nearly 400,000 after the mid-October flood episode.
Nepal's experience is now seen as a successful test-case of efforts by a National Society in operationalizing a country's social protection programme to deliver cash transfers for flood action.
EU-supported cash transfers for floods in Nepal last year. (File photo: NRCS via Twitter)