Red Cross urges public to check on neighbours as Europe braces for heatwave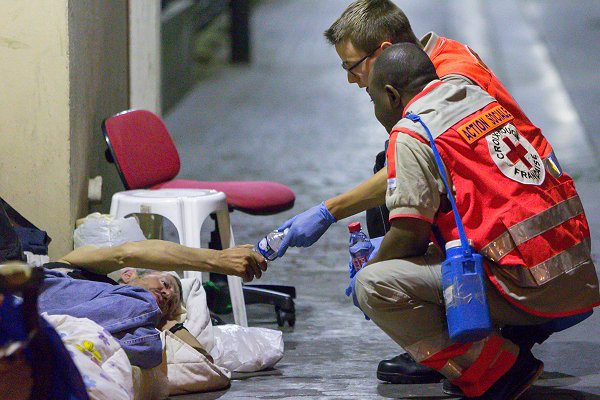 25 June 2019
(This story is an IFRC press release that appeared on its news site earlier today.)
The International Federation of Red Cross and Red Crescent Societies (IFRC) is calling on people to check on vulnerable neighbours, relatives and friends as Western Europe readies itself for possible record high temperatures.
According to European meteorological offices, Belgium, France, Germany, Spain, Hungary and Switzerland can expect temperatures in the mid to high-30s during the week, with temperatures potentially climbing to 40°C in Paris on Thursday.
IFRC Europe Region health coordinator Dr Davron Mukhamadiev said: "The coming days will be challenging for a lot of people, but especially older people, young children, and people with underlying illnesses or limited mobility.
"Our message this week is simple: look after yourself, your family and your neighbours. A phone call or a knock on the door could save a life."
Older people
Across Western Europe, Red Cross staff and volunteers are on high alert. In France, volunteers are patrolling the streets, providing water and hygiene kits and visiting isolated and older people in their homes. 
"If necessary, the emergency operations centre at our headquarters can be opened to coordinate the response to this emergency," said French Red Cross spokesperson Alain Rissetto.
In Spain, 50 staff in the Red Cross operations centre are currently calling vulnerable and older people to check they are safe and to give advice on how to cope with the heat.
And in Belgium volunteers are distributing water and checking on older community members.
Cities
Climate change is projected to increase the frequency and intensity of heat extremes globally, underscoring the urgent need to manage heatwave risks effectively and to prevent avoidable strain being put on already-stretched health care services.
The risks are particularly high in cities, where the impacts can be most severe.
Heatwaves can have a catastrophic human toll. In 2003, for example, an estimated 70,000 people died during a record-breaking heatwave in Europe.
Next month, the IFRC and the Red Cross Red Crescent Climate Centre will launch new guidelines designed to help cities better support their vulnerable residents during heatwaves.
French Red Cross volunteers distributed water to vulnerable people during a heatwave in 2015. France's met service is this week warning of a heatwave "without precedent" in June. (Library photo: CRF/Benjamin Vancrayenest)