4th International Solferino Youth Meeting includes workshop on 'major humanitarian challenge' of climate change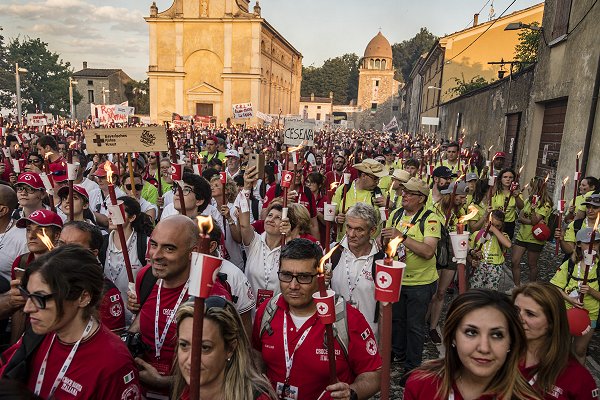 17 June 2019
(This is an edited version of the press release issued in Geneva and Rome that appeared on the IFRC news site earlier this month; it included a full rundown on associated media and interview opportunities.)
More than 10,000 young Red Cross and Red Crescent leaders and volunteers from 140 countries gather in northern Italy today to begin a week-long celebration of this year's IFRC centenary.
The 4th International Solferino Youth Meeting will include a series of workshops focusing on major humanitarian challenges such as climate change, as well as some of the world's most pressing and protracted crises.
They will also contribute to the development of IFRC's new Strategy 2030 that will guide the organization's work for the coming decade.
The event culminates on Friday with the annual Fiaccolata – a candlelit march involving thousands of volunteers between Solferino and Castiglione delle Stiviere.
Solferino is the town where in 1859 Swiss businessman, Henry Dunant, witnessed a battle between French and Sardinian armies and organized local people to treat the soldiers' wounds and to feed and comfort them.
His actions led to the creation of the International Red Cross and Red Crescent Movement.
Italian Red Cross and IFRC communications staff will be available in the lead-up to and during the highly visual event.
IFRC President Francesco Rocca will be present during the Solferino events, together with more than 60 Red Cross Red Crescent leaders.
Italian Red Cross volunteers and others at last year's #AccendiLaFiaccola march as it set off from Solferino, in northern Italy. (Photo: Italian Red Cross)