Northern summer heatwaves on separate continents may set modern-era records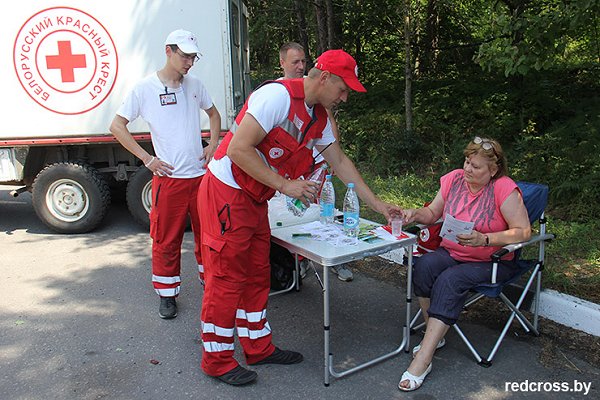 13 June 2019
The IFRC in Europe yesterday said an 80-year temperature record had been broken in the Belarus capital, Minsk, and the current heatwave was forecast for the rest of this week.
The Belarus Red Cross was distributing water and providing first aid facilities to people affected by the heat.
The National Society said interventions in its annual 'Heat' campaign, which began last week and would last until the end of September, were triggered if the temperature stayed above 28°C for three days in a row.
Red Cross volunteers will be assisting elderly people and others stuck in traffic jams or out in the open; they will also support rescuers from the Belarus emergencies ministry.
The Indian Red Cross Society (IRCS) this week also flagged its standard heatwave safety advice as the temperature in the capital Delhi unofficially set a new modern-era record.
The Times of India quoted the India Meteorological Department's chief forecaster Kuldeep Srivastava as saying that "the Palam Observatory [had] recorded an all-time high of 48 degrees Celsius".
The IMD today warned that "severe heatwave conditions" persisted in many central areas of the country, including Delhi, but temperatures were expected to fall slightly during the rest of the week, bringing some respite to people.
Red Cross volunteers were, meanwhile, also on high alert for the passage of the latest storm to threaten coastal areas of India, Cyclone Vayu, which was today expected to skirt the westernmost state, Gujarat.
"All our Red Cross branches in the area are ready and at standby," the IRCS website said, and Kutch, Dwarka, Porbandar, Bhavnagar, Gir Somnath and Rajkot branches had put out alerts for volunteers.
The National Disaster Management Authority said a sea surge up to two metres above normal sea-level was "likely to inundate" some low-lying coastal areas.
Scientists say heatwaves, especially in cities, and more destructive storm-surges from higher sea-levels are among the most significant impacts of climate change, but in the particular case of heat in Delhi the picture may be complicated by air pollution.  
Belarus Red Cross volunteers this week assisting people affected by a potentially record-breaking heatwave. (Photo: BRC)