UN humanitarian chief, praising German leadership on early action, announces $45m for Somalia, Ethiopia and Kenya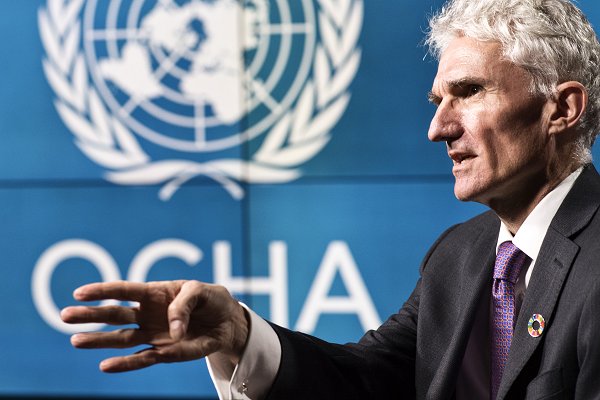 7 June 2019
Mark Lowcock, the UN Under-Secretary-General for Humanitarian Affairs, Wednesday told an audience in Berlin he was allocating US$45 million from its Central Emergency Response Fund (CERF) for "early action to mitigate a problem we now know is on its way" in Somalia, Ethiopia and Kenya: drought-related food insecurity.
Mr Lowcock, who has been in Germany this week meeting officials and members of parliament, said that as soon as next month "5.4 million Somalis will be uncertain of their next meal, and of those 2.2 million will face emergency and crisis levels of food insecurity. I don't think the world wants to stand by and watch another famine in Somalia."
Seasonal rains had failed and the UN last month launched a drought response plan calling for US$ 710 million for Somalia, which would get the bulk of the new CERF money.
"The frequency of drought in Somalia and the wider Horn of Africa has increased from once every seven yearss to as much as once in every two or three years," Mr Lowcock added, a result of "the combination of climate change and larger numbers of people trying to eke out a meagre living from agriculture or livestock in conditions of depleted environmental resources."
The UN humanitarian chief said the international community now needed to repeat the success of 2017, when "four consecutive failed rains brought Somalia to the brink of famine". That year, however, "early warning led to earlier action. Substantial early donor support, combined with a cooperative government, enabled a massive scale-up of assistance, and we managed to avert famine."
'I don't think the world wants to stand by
and watch another famine in Somalia'
Germany, he said, providing nearly 3 billion euros last year and now the world's second-largest humanitarian donor, had become a global "thought leader" in this area, including with its "innovative piloting of forecast-based funding", and the UN was "creating in the CERF a capacity for consistently earlier action when we know there is a real problem coming."
Mr Lowcock said: "The trick is to trigger funding based on forecasting information and early-warning data.
"German support for [FbF] pilot projects in Bangladesh, Mozambique, Peru, Togo and Uganda with the German Red Cross and the International Federation…has helped prove the concept.
"We now need to build a system in which data, of a better quality than we have had before, triggers the release of pre-agreed funding to implement a pre-agreed response plan."
FbF projects worldwide also include technical advice from the Climate Centre.
UN Under-Secretary-General for Humanitarian Affairs and Emergency Relief Coordinator, Mark Lowcock. (Library photo: Mark Garten/UN)