IFRC: Cyclone Idai casts a shadow over global disaster conference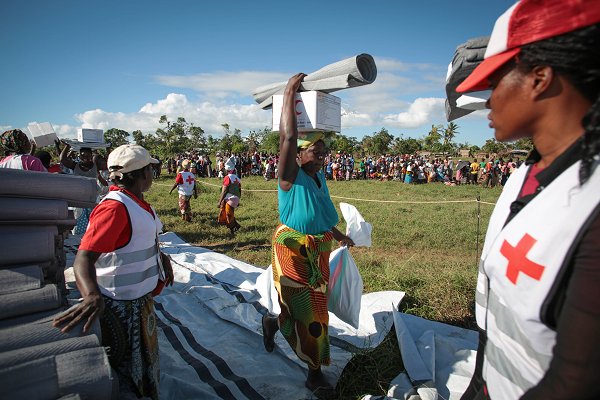 15 May 2019
(This story is a press release issued by the IFRC yesterday. It has been edited here for time references only. A major networking event takes place in Geneva this evening alongside the global platform, hosted by the IFRC, PfR, PEDRR and the Nature Conservancy, at which agencies will explore integrated approaches to risk reduction. )
A major international conference on disaster risk reduction will take place under the shadow of Cyclone Idai – a disaster that underscored how little investment the international community makes in protecting vulnerable people from rising disaster risks.
Cyclone Idai hit central Mozambique on the night of 14 to 15 March. It killed hundreds of people and left an estimated 1.85 million people in need of help in Mozambique alone.
In its aftermath, UN agencies, the IFRC and many other groups launched massive relief operations.
The price of Red Cross and UN relief operations alone came out to about 315 million Swiss francs – nearly 1,000 times the 340,000 Swiss francs of international funding that was released by IFRC immediately before the storm to help evacuate and prepare at-risk communities.
This gap is lessened when longer-term risk reduction efforts are taken into account. For example, in recent years the IFRC network has invested about 7 million Swiss francs in disaster risk reduction in Mozambique. However, the discrepancy remains. [See IFRC release for details.]
This incredible achievement is evidence that
preparedness, investment and political will
can have profound impacts
Elhadj As Sy, IFRC's Secretary General, said: "Cyclone Idai was a reminder that the way we respond to disasters is out of balance. Lack of investment to reduce and prevent disaster impacts results in more and more money needed to save lives and repair damages after the fact.
"Such a model doesn't work for people who are at risk of storms and flooding. It's also a model that doesn't make financial sense, especially as we anticipate increased weather-related disasters as a result of climate change."
This warning coincides with the opening today of the UN Global Platform for Disaster Risk Reduction in Geneva, the pre-eminent global forum for governments, aid groups and other stakeholders to discuss and address disaster risks.
While there has been a shift in recent years towards more risk-focused investment, the IFRC is concerned that not enough of this investment is reaching vulnerable communities, in areas that are at highest risk of storms, floods and other weather-related disasters, where it is most needed and where it could prove most effective.
More resources should also be allocated to preparedness, prevention and adaptation.
"This means investing more in early warning systems that reach the last mile. It also means investing more in local aid groups that are best placed to help people prepare," said Mr Sy.
At the beginning of May, six weeks after Cyclone Idai, more than 1 million people were evacuated from coastal areas in India's Odisha state in advance of Cyclone Fani.
This incredible achievement is evidence that preparedness efforts, backed by long-term investment and strong political will, can have profound impacts.
"The India experience shows that investment in local preparedness and early warning systems works. It saves lives and, in the case of Cyclone Fani, can prevent catastrophes. But unfortunately, this is still the exception to the rule. And that needs to change," said Mr Sy.
The Mozambique Red Cross distributing relief items to people affected by Cyclone Idai in Buzi earlier this month. (Photo: Joost Ruigrok/IFRC)