Red Cross 'right in the middle of the response' to KwaZulu-Natal floods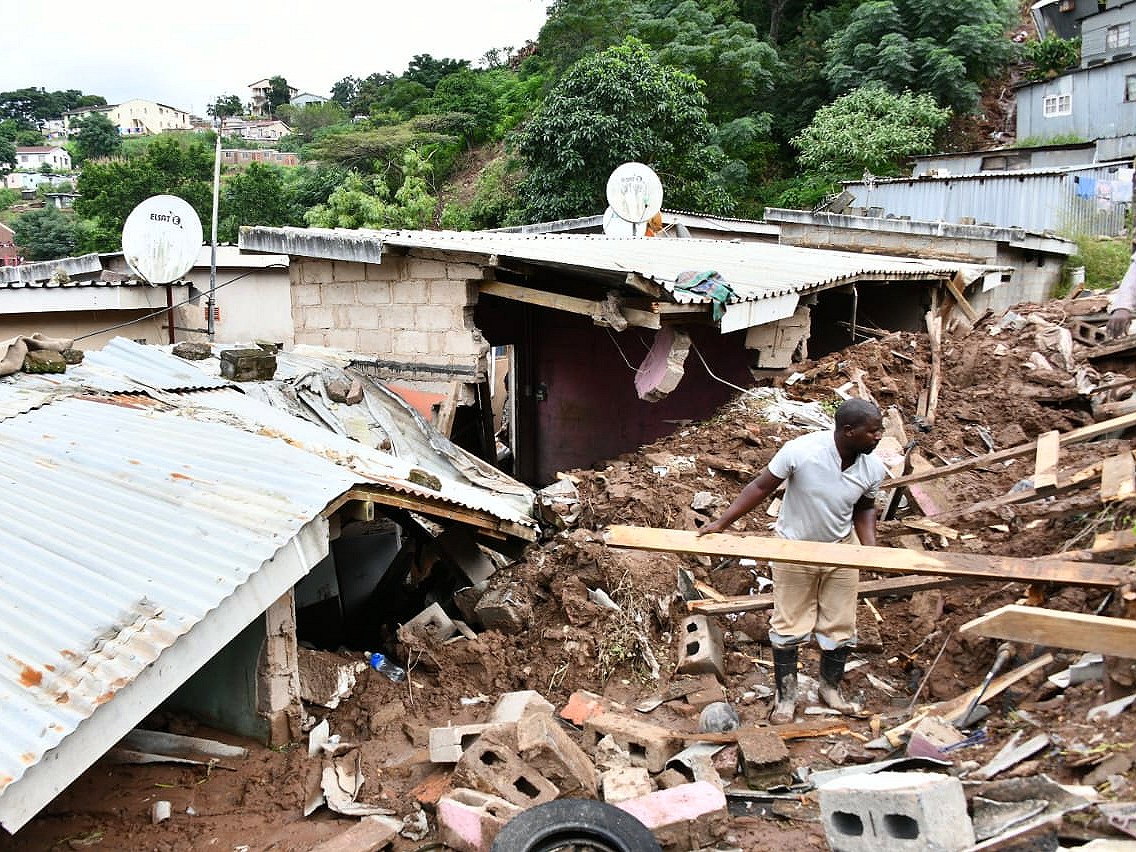 19 April 2022
By the Climate Centre
(21 April update: the IFRC has now issued an emergency cash grant of more than 330,000 Swiss francs for the KwaZulu-Natal flood response.)

The South African Red Cross Society National Disaster Manager, Ireen Mutombwa-Shumba, said over the weekend that the National Society was now utilizing its Protection of Family Links service in KwaZulu-Natal province, helping people displaced by floods find each other, as well as those who might have phones but are not able to charge them.
The IFRC's Head of Delegation for Southern Africa, Michael Charles, who arrived with a team in KwaZulu-Natal yesterday, said the SARCS remained "in full force responding to communities in need".
The National Society, he said, was "right in the middle of the response, providing shelter, providing soup kitchens, providing comfort to the people who have been affected".
The IFRC, he added, was readying an emergency cash grant to support over 1,000 families, covering health care, hygiene, shelter, psychosocial support and livelihoods, as well as a voucher scheme.
'Cut-off low'
The SARCS said in a statement Thursday it had been involved on the ground in KwaZulu-Natal since the first reports of floods and fatalities, listing five locations where it had reached more than 2,500 people with various forms of relief.
The South African Weather Service said last week it had been able to issue timely "impact-based warnings" ahead of the most extreme downpours, but "it appears that the exceptionally heavy rainfall [last Monday and Tuesday] exceeded even the expectations of the Southern African meteorological community at large."
A few stations had reported 24-hour rainfall exceeding even 300mm.
The SAWS largely blamed a local phenomenon called a cut-off low-pressure system with rainfall for coastal KwaZulu-Natal and the Eastern Cape "markedly enhanced" by combining with warm maritime air from the sub-tropical Indian Ocean.
'Exceptionally heavy rainfall exceeded even the expectations of the Southern African meteorological community at large'
It added that while individual weather events cannot be solely attributed to climate change, "we can state with confidence" that, as a result of global warming, severe weather is "becoming more frequent and more extreme that in the recent past", specifying heatwaves, heavy rain and coastal storm-surges.
Media reports have described the rain last week as the heaviest in 60 years.
South Africa's President Cyril Ramaphosa, visiting the affected region, described the human and material losses in KwaZulu-Natal as a disaster of "enormous proportions".
The government, which has declared a state of national disaster, yesterday said at least 443 people are known to have died while an estimated 50 are still missing.
Ten thousand troops have been deployed to assist with relief operations.
A KwaZulu-Natal resident clears away debris after last week's devastating floods that have claimed more than 400 lives. (Photo: @SAgovnews via Twitter)