Hong Kong Red Cross explores the 'climate message' through games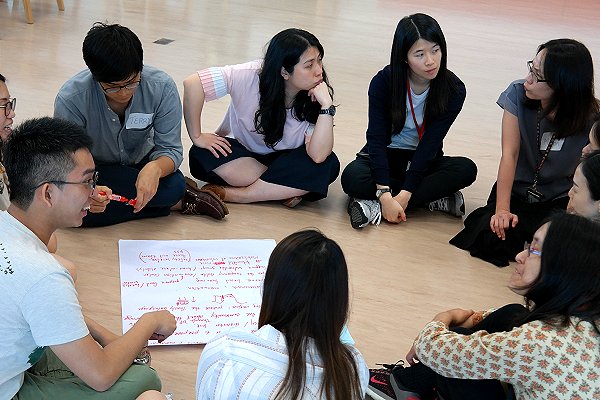 1 May 2019
The Climate Centre last week facilitated a three-day training session on climate games for the Hong Kong Red Cross – an autonomous branch of the Red Cross Society of China (RCSC) – that lists community resilience as one of three key pillars of its strategic plan through 2022.
The workshop (photo) included sessions of ten popular games developed by the Climate Centre, including the Greenhouse Gas Game, Map the Hazard, Snap, Ready!, Paying for Predictions, the Social Protection Juggle, the Gender Walk, and the Climate Message.
"The Climate Centre's timely sharing of ways to use games to disseminate impact of climate change will help us build personal and community resilience," said Candy Yeung, HKRC Deputy Secretary General, afterwards.
"The learning experience involved can definitely help us implement our current strategic plan."
The Red Cross in Hong Kong says it is working for greater community resilience in urban and rural areas domestically and throughout mainland China.
"Climate change is increasing and changing the risks people face, and it's important to understand and anticipate existing and future risks to help communities make informed decisions which build their resilience," an introduction to last week's event said.
Young people
The Hong Kong branch says it views games as a potential contribution to humanitarian assessment and risk reduction in general.
At least 30 young HKRC personnel took part, from the branch's services for community care, health and care, humanitarian education, international and relief, and youth and volunteers.
Last week's sessions were moderated by Eva Yeung, Disaster Management Systems Building Manager, in collaboration with Donna Lagdameo, the Climate Centre's Senior Policy Adviser and Asia Pacific Focal Point, and Nicola Ward, its Hong Kong-based Knowledge Management and Learning Adviser.
Last December, amid widespread scientific agreement that with climate change lethal heatwaves are starting earlier and ending later, Hong Kong hosted the first-ever international expert forum convened to find ways to reduce the risk.
Researchers based in Hong Kong – which itself suffered an exceptional heatwave in summer 2018 – told the meeting that in densely populated areas, every degree Celsius increase in daytime temperature above a benchmark of 28 degrees results in nearly a 2 per cent increase in mortality.
Staff from the Hong Kong Red Cross play Ready!, a game about preparing for disasters, in a training session facilitated by the Climate Centre last week. (Photo: Eva Yeung/HKRC)