Second Mozambique cyclone: is history pointing finger at climate change?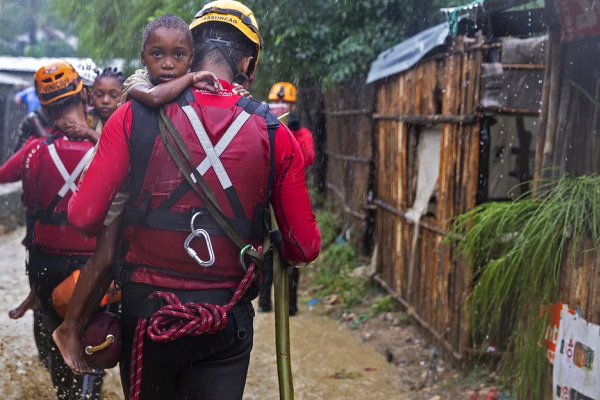 1 May 2019
The IFRC yesterday said lives are still at risk in the far north of Mozambique as the remnants of Tropical Cyclone Kenneth continue to generate intense rainfall and more flooding.
The International Federation tweeted that floodwater had "covered the coastal town of Pemba", capital of Cabo Delgado province bordering Tanzania, and Red Cross volunteers were providing support to people affected. WFP drone footage has graphically illustrated the extent of coastal flooding in that area.
On Friday the US Joint Typhoon Warning Center said the storm had come ashore the day before with maximum wind speeds 220 kph – the equivalent of a Category 4 hurricane.
                                             'This is far from a normal situation'
The US space agency NASA quoted CNN meteorologist Chad Myers as saying storm surges between five and seven metres high were recorded north of Pemba.
Mozambican meteorologists were Tuesday still forecasting up to 50mm of rain in 24 hours in Cabo Delgado and Nampula provinces.
"While attention is often given to wind speed, we know from experience that it is rainfall – and subsequent flooding and landslides – that can be even more dangerous from a humanitarian perspective. This was certainly the case for Cyclone Idai," said Antonio Carabante, IFRC Relief Delegate in Mozambique, speaking in a press release Friday.
"The terrain in many affected communities is precarious – many of these areas are prone to flooding and landslides in normal rainfall, and this is far from a normal situation."
'Scary records'
IFRC President Francesco Rocca yesterday tweeted that climate-related disasters were growing while the international community "is still discussing" what to do about climate change.
There was an "urgent need to invest in local actors, like our volunteers, to build resilient communities".
Climate Centre Director Maarten van Aalst commented from The Hague today that history – if not, for the moment at least, science – may be pointing a finger at climate change.
"As always, gathering and crunching the atmospheric data needed to make an unequivocal statement takes resources, including time," he said.
"But it's already anecdotally clear this cyclone episode has set two scary modern records: Kenneth is the strongest Indian Ocean cyclone to make landfall in Mozambique this far north, and it's the first time we've seen two intense storms like this in quick succession.
"In any case, the very intense rainfall and the storm surges aggravated by higher sea-levels make it very plausible that climate change contributed to Kenneth's devastating impact."
Media reports say some 700,000 people in the north of Mozambique are at risk amid continued strong rains.
Brazilian firefighters rescuing children in Mozambique as the remnants of Cyclone Kenneth continue to cause torrential rain. (Photo: Unicef via Twitter)