A 'mega event of ideas' in Pakistan for tackling climate change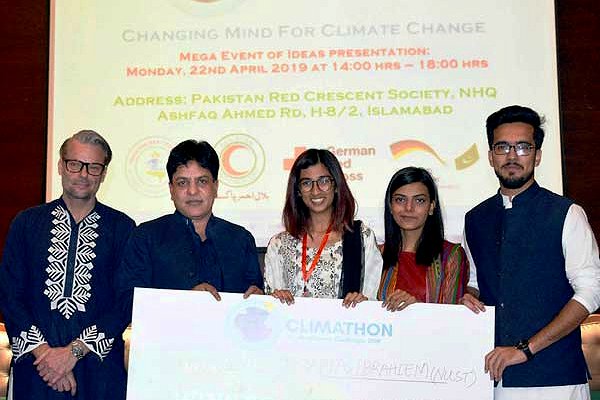 24 April 2019
The Pakistan Red Crescent Society and the German Red Cross Monday announced the results of their 'Climathon' competition to promote ideas for green business in an event at PRCS national headquarters in Islamabad.
The team from the National University of Science and Technology were overall winners and also took second place; in third place was a team from Fatima Jinnah University.
Sixteen teams from eight universities in all took part in the competition, which "brought together investors, founders, and start-up enthusiasts to witness visionaries pitch their ideas," PRCS Secretary General Khalid Bin Majeed said at the award ceremony at the National Society's Fatima Jinnah Auditorium.
"The Y-Accelerator challenge gives young people the chance to develop business ideas that tackle climate change," a report in the Daily Times quoted him saying.
'Climate education'
The PRCS was in the front line in responding to emergencies and disasters, Mr Bin Majeed said, and "with the assistance of its international partners has already taken up the initiative to launch climate-smart disaster management to ensure effective adaptation.
"A few achievements of the project include formulating a climate change dashboard, coordination, climate-smart DRR tools and climate education, along with a nationwide campaign and capacity-enhancement programme for grassroots communities, young professionals and policy-makers."
German Red Cross Climate Change Adaptation Adviser Hans Hausmann said the National Societies' joint work on climate aimed to break a vicious cycle of vulnerability and poverty.
PRCS Programme Manager Shahid Kazmi thanked all participants and the jury at the "mega event of ideas", where first prize of 70,000 rupees (€440) went to Ameera Adil; 50,000 rupees was awarded to Ausma Farooq, the first runner-up, while Kainat Rao got 30,000.
Religious scholars
Late last month, meanwhile, the PRCS reported ('Top clerics sign declaration on climate change advocacy') that Punjab Governor Chaudhry Muhammad Sarwar had urged religious scholars to "sensitize the public to climate change and its harmful effects, as their opinions and suggestions carry weight".
He was speaking at a high-level seminar on climate change at Governor's House in Lahore, where "a historic declaration underscoring the need for public sensitization to climate change was adopted", the PRCS said.
Governor Sarwar the Punjab government "strictly adhered to its initiatives of climate safety, clean energy production, and integrated agriculture management".
PRCS Chairman Saeed Elahi said the Red Crescent had "joined the cause with the collaboration of its partner National Society – Germany – [in] adopting the community-based approach."
This week's award ceremony for the PRCS 'Climathon' competition. (Photo: Daily Times via Twitter)