'We don't want 2 degrees. We want 1.5 or we will become the nomads of the Pacific. Our home, our paradise, will disappear'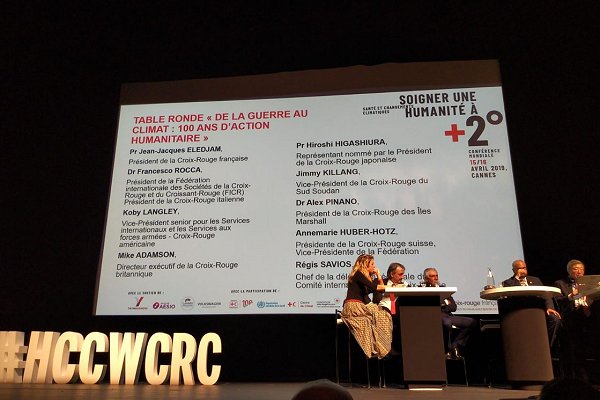 15 April 2019
The major global conference on climate and health organized by the French Red Cross has got underway in the Mediterranean city of Cannes.
The two-day World Conference on Health and Climate Change is aimed at linking global ambitions to the experience of the Red Cross Red Crescent network and its partners.
"This is the first humanitarian COP," said Jean-Jacques Eledjam, President of the French Red Cross, in an opening address.
"Everyone has a part to play. Everyone's participation is a condition to tackle this challenge. Make these two days count."
In an earlier editorial, Mr Eledjam wrote that the "health consequences of climate change are already visible in several different forms, either on mental health, on migration, on ecosystems or on food security."
'Communities'
In his opening address, IFRC President Francesco Rocca said global action on climate is growing "and this is a very good sign. But the fact is that interest is not keeping up with the rising risk.
"We in the Red Cross Red Crescent have the responsibility to raise the profile of the issue of climate change, take action to address the rising risks, and prepare for the important [global] discussions" later this year.
UN Secretary-General Antonio Guterres is convening a Climate Action Summit in New York in September expected to draw at least 100 heads of state and government to support efforts to implement the Paris Agreement and increase ambition on climate change.
Mr Rocca added: "I am very proud of [the Red Cross Red Crescent] role in engaging at the international level, in all the scenarios, in all the dialogue, in all the specific communities – the way we are positioned now is something that, as president, I can say that I am very proud of."
The Cannes conference also marks the centenary of the foundation of the IFRC, which was created as the League of Red Cross Societies by the American, British, French, Italian and Japanese Red Cross shortly after they had met in Cannes's historic Théâtre Croisette – also this week's venue – to decide how best to coordinate their work.
The opening session heard an impassioned plea for greater ambition on climate from Alex Pinano, President of the Marshall Isands Red Cross, the global Movement's newest National Society: "We don't want two degrees. We want 1.5 or we will become the nomads of the Pacific. Our home, our paradise, will disappear.
"We call on the big polluters to commit to real, urgent action."
'Images and stories'
Laurent Fabius, President of France's Constitutional Council, who was also president of the COP21 climate talks in 2015 that secured the Paris Agreement, said: "Caring for humanity at two degrees is the title of this conference. Yet we are moving towards three-point-five.
"The effects of global warming in health will be devastating in terms of morbidity and mortality."
Kirsi Madi, Director of the United Nations Office for Disaster Risk Reduction, told the opening session: "Disasters push people into poverty and reduce access to essential health services.
"This is very evident in impacts of extreme-weather events as the influence of climate change grows in step with record levels of greenhouse gas emissions."
Cyclone Idai, she added, had destroyed 45 health facilities in Mozambique, and it was a tragedy that "they are rendered useless by events which leave so many people is need of their services."
IFRC Director of Health and Care Emanuele Capobianco tweeted that he had travelled to Cannes from Beira, Mozambique with "images and stories that are a stark reminder of why this conference is important."
A full list of the some 400 speakers taking part in the two-day event is on the conference website.
Organizers say that it will cover a very wide range of climate-related issues, including "everything from urban heatwaves to epidemics, disasters, mass migration, malnutrition, conflict and mental health".
The ultimate aim of the discussions will be to "formulate tangible, innovative adaptation solutions and raise awareness among citizens and public and private sector decision-makers of the need to prevent, prepare and take collective action."
The World Conference on Health and Climate Change focuses on a "two-degree world". In the IPCC report known as 'SR1.5' scientists spell out the dangers of a 2.0°C rise in the global temperature by the end of the century, as well as the benefits of limiting the rise to 1.5°C. (Photo: social media)