Iraq sees more than one heavy sandstorm a week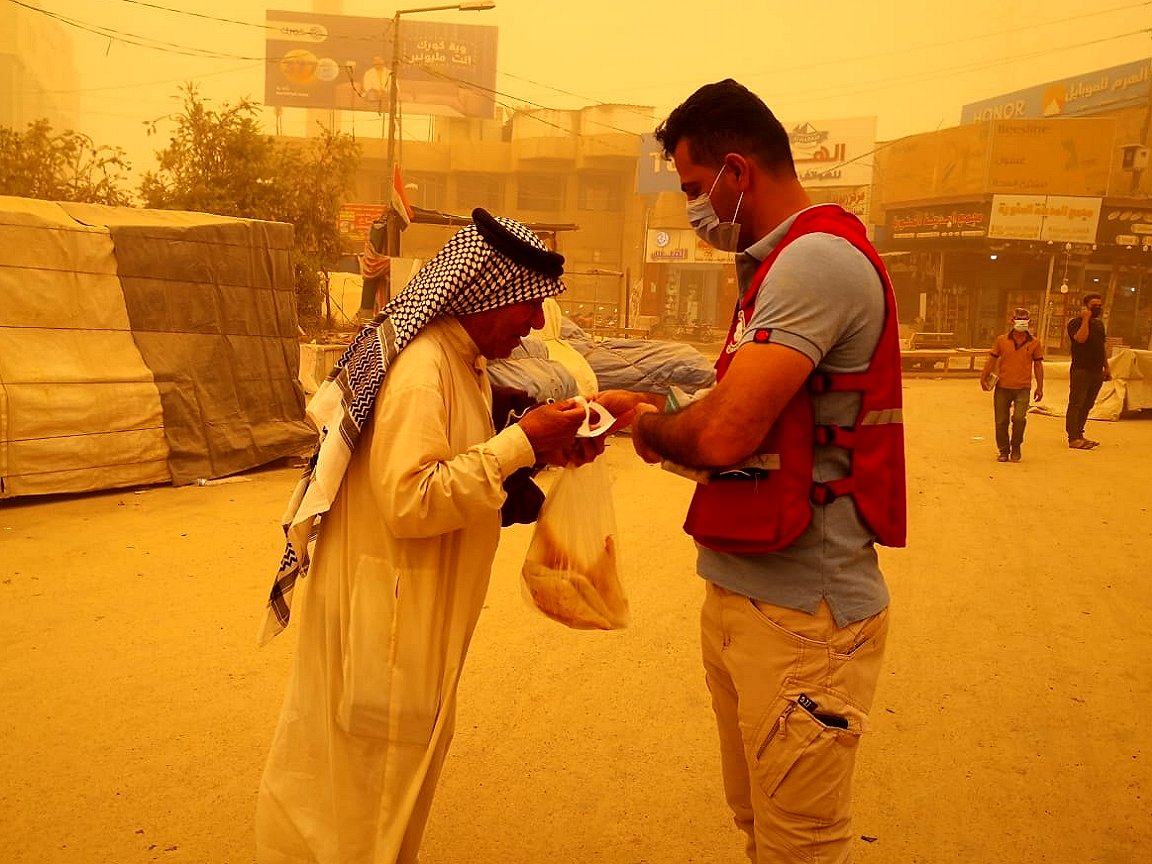 1 June 2022
By the Climate Centre
Iraqi Red Crescent volunteers have again been providing health advice and facemasks to the public (photo) in the streets after the ninth severe sandstorm in under two months to hit the country, including Baghdad which was enveloped in a thick cloud of orange-tinged dust.
The most recent sandstorm forced thousands of people to seek medical assistance and led the authorities to suspend many public services, schools and airports.
"Poor air-quality can aggravate asthma and other respiratory diseases, especially for vulnerable people and those with other underlying health problems," the IFRC said late last month.
Correspondents for the French news agency in Baghdad say the Middle East has always been battered by dust- and sandstorms "but they have become more frequent and intense in recent years."
They quote an Iraqi environment ministry official as warning in April that the country could face an average of "272 days of dust" a year over the next two decades.

Respiratory problems
News reports said the previous two sandstorms sent nearly 10,000 people to hospital with respiratory problems and led to at least one death.
Flights had been grounded in neighbouring Kuwait for the second time in a month, they added, while the second heavy sandstorm in less than a week also blanketed the Saudi capital, Riyadh.
The Climate Centre's Beirut-based Technical Adviser for the Middle East, Rana El Hajj, notes that the WMO Barcelona Dust Regional Center provides forecasts of storms up to five days ahead. "Its interactive products are designed to enhance governments' and humanitarians' ability to support early warning and mitigate risk."
The Climate Centre's recent fact sheet on Iraq's climate cites a 2013 UN analysis which says: "Iraq is considered one of the region's most vulnerable countries to climate change and it faces a unique set of environmental challenges.

"Rising environmental degradation and increasing frequency and intensity of extreme-weather events, especially sand and dust storms, take an enormous toll on socio-economic life and human development across the region."
Iraqi Red Crescent volunteers in the streets of Baghdad with health advice and facemasks after the ninth severe sandstorm to hit the country in two months, including the capital, which was enveloped in a thick cloud of orange-tinged dust. (Photo: Iraqi Red Crescent Society via IFRC)