ICRC: Yemen's ancient honey industry at risk from combination of conflict and climate change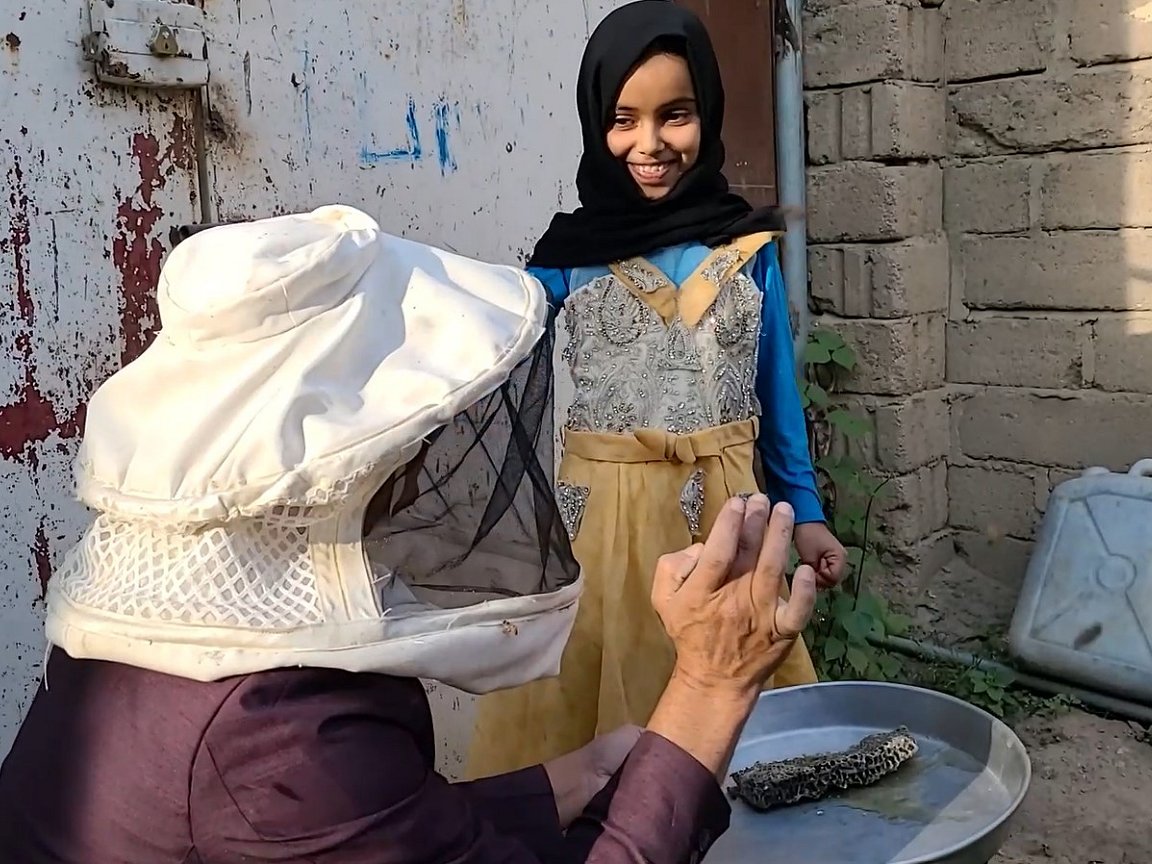 13 June 2022
By the Climate Centre
The ICRC says armed conflict and climate change are threatening the production of honey in Yemen, long known for producing some of the best in the world.
In a video case study published Friday it says "enormous losses have been inflicted on the industry since the outbreak of the conflict in 2011."
There are around 100,000 Yemeni households dependent on beekeeping as their sole source of income, UN figures show.

The International Committee adds: "For centuries, this practice has been an indispensable part of economic life in Yemen, but today after years of conflict combined with climate change, thousands of beekeepers are struggling to survive."
"The mountain chain on Yemen's west coast is a historic centre for honey production but for the last eight years the area has been a battlefield," said Amin, a honey producer from Taiz – a city severely affected by the conflict.

"The worst day of my life was when a rocket landed on my bee colony. Since then, the situation has worsened: the business is no longer lucrative, the bees are disturbed, and life has gone from bad to worse."
Landmines
Beekeepers are prevented from moving around the country and are sometimes killed when trying to cross front lines to graze their bees or sell honey.
Landmines and unexploded ordnance present a grave threat, with more than 1 million such devices scattered all over the country "killing and maiming civilians on a daily basis," the ICRC says.
Youssef, a beekeeper from Hajja governorate, said: "I'm forced to stay in my area [and] depend on only one season of production, and that is not enough to be able to support my children."
Beekeeping in Yemen goes back at least to the beginning of the first millennium BC, but now thousands of beekeepers have been forced into other occupations that do not require moving around.
"To make matters worse, Yemen, like many conflict-affected countries, is disproportionately affected by climate change," the ICRC case study says.
Desertification
Temperature rises in recent years and other environmental changes are disturbing the bees' ecosystem; there has been less rain than usual, for example.

"With water tables falling and increased desertification, areas previously engaged in agricultural activities and beekeeping no longer sustain these livelihoods," according to the International Committee.
"I don't only blame the conflict for what happens to us," said Amin. "There have not been any rains in months and there are fewer flowers.
"My children had to drop out of school to work in other sectors as my business is no longer enough to meet my family's needs."
More than 16 million Yemenis are now said to be food-insecure overall, and the ICRC quotes the World Food Programme as saying that "[i]n Hajjah, Amran and Al Jawf, there are nearly 50,000 people are living in famine-like conditions".
In coordination with the Yemen Red Crescent Society, the ICRC last year provided food, unconditional cash, basic household items and agricultural and animal products to more than 1.6 million people, including at least 3,700 beekeepers.
Sultan Alsabary teaches his daughter how to handle bees near the ancient north-western city of Saada. "We have been practicing beekeeping for a very long time over generations, and because of the conflict we lost many beehives," he says. (Video still: ICRC)