IFRC: Climate change increasing hardship in Afghanistan where 10m people living with aftermath of extreme weather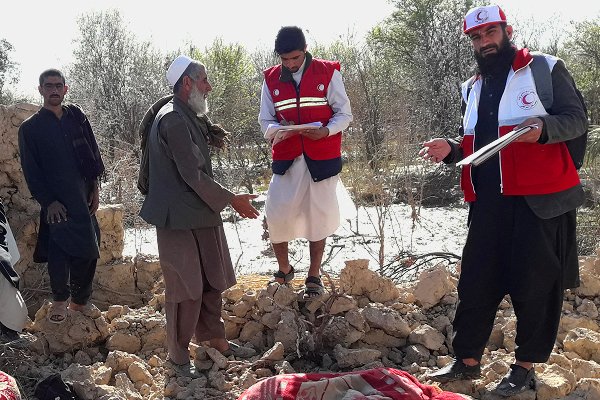 28 March 2019
(This story is a press release issued by the IFRC in Kabul, Kuala Lumpur and Geneva earlier today.)
Ten million people in Afghanistan – more than a quarter of its population – face acute food insecurity and need urgent help after floods and drought, the Afghan Red Crescent Society and the IFRC said today.
Three years of drought have contributed to massive crop failure, economic hardship, hunger and loss of life, and forced 266,000 people from their homes.
In March 2019, extreme weather deepened hardship, when above-normal rain and snow fell on soil with limited vegetation or ability to soak up the water, bringing flash floods to nine provinces, killing 63 people and displacing at least 281,000 to makeshift camps with inadequate services.
'Protracted crisis'
Climate change is increasing the hardship for people in Afghanistan. Temperatures are rising, leading to changes in snowmelt, and rainfall is getting more erratic, with an increased risk of floods and droughts.
Repeated disasters have eroded people's capacity to cope.
"Millions of people need both immediate, life-saving humanitarian assistance and a way out of this protracted crisis," said Afghan Red Crescent Secretary General Dr Nilab Mobarez.
"The floods are the latest disaster to bitterly test the resilience of people already stretched to breaking point by drought. It's extremely worrying because more floods are expected."
Across many parts of the country, people lack safe water, proper sanitation and healthcare, which contribute to catastrophic levels of malnutrition.
Basic needs
"The floods should be the wake-up call that triggers a massive investment to help people who at the moment are out of sight in an under-estimated, silent crisis with limited access by humanitarian agencies or media," said Ariel Kestens, IFRC Head of Country for Afghanistan.
"They are out of reach because of conflict and out of scope because this is a large, slow-onset disaster, and because many people in need are displaced by disaster."
On 17 March 2019, IFRC launched an emergency appeal seeking 7 million Swiss francs to support the Afghan Red Crescent Society to provide shelter, health and care; water, sanitation and hygiene; and livelihoods and basic needs for up to 650,000 people (92,500 households) affected by flood and drought for 12 months.
The plan also includes disaster risk reduction activities and strengthening the capacity of the Red Crescent.
A longer-term resilience-oriented approach will address some of the underlying causes of people's vulnerability. Examples are water, sanitation and healthcare, agricultural support such as in climate-smart practices and cash-based interventions.
Afghan Red Crescent volunteers assist villagers clearing up after a flash flood. Above-normal precipitation falling on soil hardened by years of drought has caused flash floods that have killed more than 60 people this month. (Photo: ARCS)