New professorship will boost role of science in humanitarian mission to reduce climate risk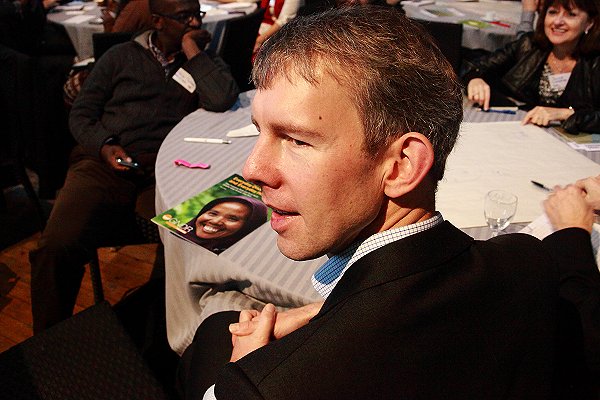 26 March 2019
(A version of this story first appeared earlier today as a press release from the University of Twente in Dutch and English. A short biography of Dr Van Aalst is on the Climate Centre website.)
Climate Centre Director Maarten van Aalst (photo) has been appointed Professor of Spatial Resilience for Disaster Risk Reduction – a research chair inaugurated last year by the Red Cross and the University of Twente for the 75th birthday of Princess Margriet of the Netherlands.
The Princess Margriet Research Chair is established within the Faculty of Geo-Information Science and Earth Observation (ITC) at Twente, in the eastern Dutch city of Enschede.
Its aim is to make better use of knowledge on natural disasters and climate change for disaster prevention, and measure and increase the impact of humanitarian aid in this context.
'Scientific knowledge'
Princess Margriet herself is known to have long been committed to this approach: "Prevention is better than cure but requires a different approach through better use of knowledge and investment before a disaster has occurred," she said, "using early warning systems, for example, or by other forms of land management, especially for people in the most vulnerable circumstances."
Maarten van Aalst will combine the professorship with his role as director of the Climate Centre, which supports the Red Cross Red Crescent Movement in addressing the rising risks of disasters in a changing global climate.
He said Tuesday: "I want to use this chair to help better deploy scientific knowledge to reduce the human suffering and economic damage caused by these disasters.
"It's an enormous challenge to outsmart the rising risks, especially now that climate change is making the weather more unpredictable. Every day the Red Cross and Red Crescent see how the most vulnerable are the hardest hit.
"The response to the Cyclone Idai disaster in Southern Africa and especially Mozambique has been very impressive, but no less impressive, surely, was that the Red Cross in Beira was able to act a few days in advance of the storm making landfall; not at scale, perhaps, but they well illustrated what we need to do more of.
"Emergency aid alone is not the only solution: we have to reduce the risks of disasters and do much more prevention work."
Reconstruction
Professor Thom Palstra, Rector Magnificus of the University of Twente, added: "Maarten is an excellent appointment for the Princess Margriet Research Chair because he is someone who can translate scientific knowledge of resilience and climate change into actual practice."
The university's ITC faculty – one of the world's leading institutes in the field of geospatial information and remote sensing – has a strong focus on capacity development; it has had a long cooperation with the Princess Margriet Fund for disaster prevention.
The university hosts five research chairs in the area of natural disasters, including risk management and reduction, and reconstruction.
Dr Van Aalst at the 2015 Development and Climate Days workshop alongside the historic COP talks at which the Paris Agreement on the global climate was reached. (Photo: Climate Centre)