Australian cyclones: 'Know your weather, know your risk'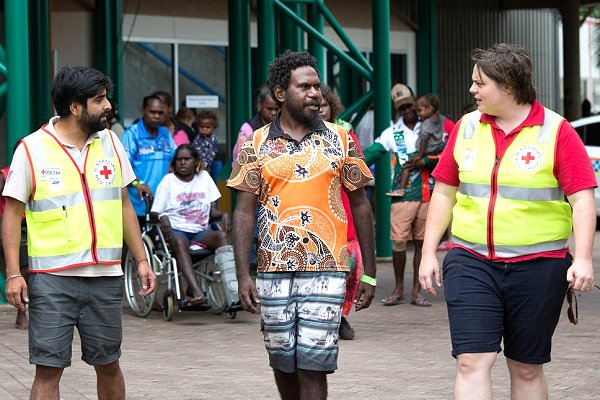 25 March 2019
Australia's Bureau of Meteorology said Saturday it had "mobilized its full national resources well in advance of tropical cyclones Trevor and Veronica" to help ensure the safety of communities.
"We are tracking very significant weather systems for World Meteorological Day [Saturday], with two tropical cyclones set to make landfall over the weekend," said its Extreme Weather Desk Manager, James Taylor, who added that the storms were "a reminder for communities to remain vigilant to the risks posed by severe weather.
"The bureau is urging communities to follow the advice of their local emergency services and to keep aware of [its] forecasts and warnings. Know your weather, and know your risk."
Some people who had been evacuated from the path of Cyclone Trevor – which made landfall Saturday as a Category 4 storm – were today able to go home.  
Summer storms
The Australian Red Cross set up three evacuation centres sheltering up to 2,000 people from remote towns; its account of sitting out the storm in one of the centres was published today.
Cyclone Veronica, meanwhile, originally also a Category 4, was downgraded over the weekend and turned west, away from the Australian mainland, and was forecast to drop in strength, the BOM tweeted.
"It really is quite unusual for two cyclones to happen at the same time, particularly two very strong systems," the BBC today quoted the BOM's Steph Bond as saying; this had happened only twice in Australia's history.
She attributed the timing to a phenomenon known as the Madden-Julian Oscillation that is conducive to summer storms.
Sea surges
"The MJO is a natural phenomenon and there's no scientific consensus yet on what impact, if any, climate change may be having on it overall," said Erin Coughlan de Perez, Manager, Climate Science at the Climate Centre.
"But both these storms were both accompanied by large quantities of rainfall, and this pattern of very intense rain embedded in storms that are otherwise not exceptional in terms of frequency or windspeed is more familiar in the context of climate attribution.
"We are also seeing greater probabilities of more destructive sea-surges with storms worldwide as a result of higher sea-levels, which was the case in Mozambique last week, for example."
The Australian Red Cross has been managing three evacuation centres sheltering 2,000 people whose homes lie in the path of Cyclone Trevor, one of two severe storms to have affected the north and west of the country over the past few days. (Photo: ARC)