Humanitarian Affairs Segment: 'Scale of today's mega-crises requires a new approach'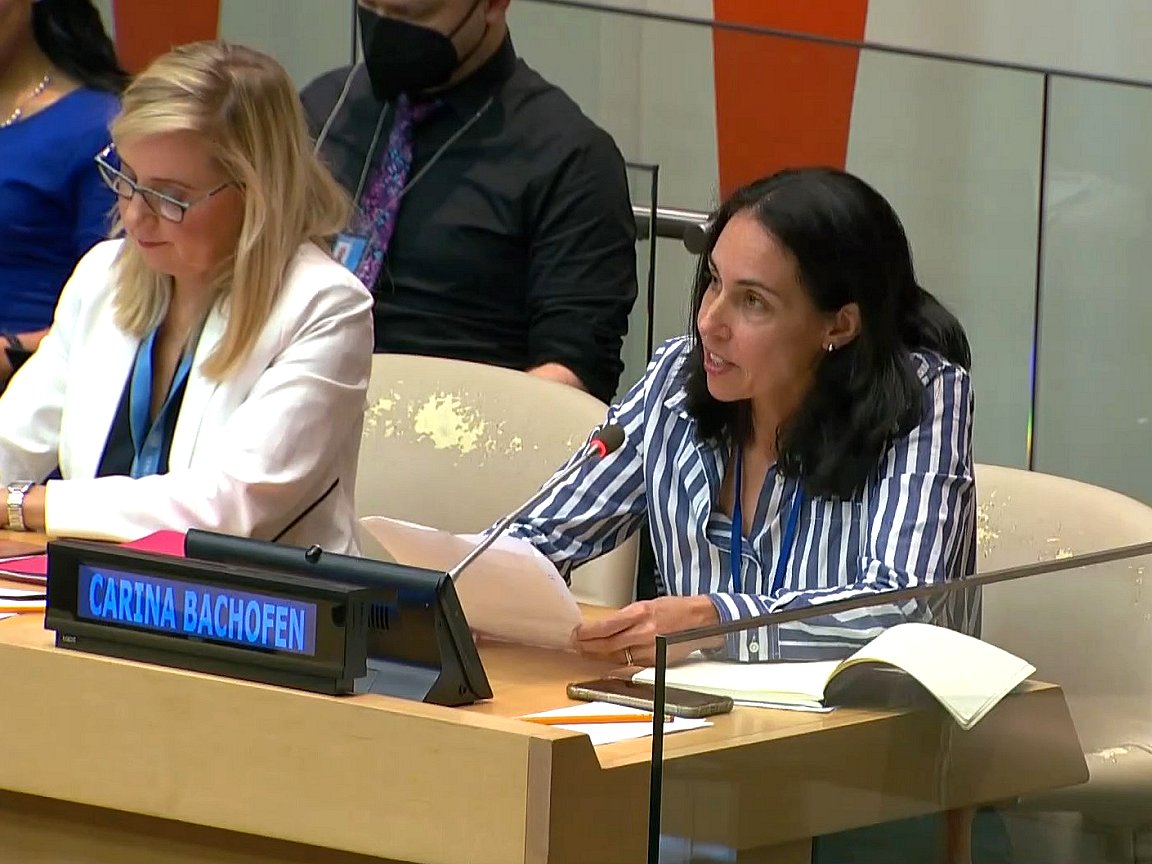 23 June 2022
By the Climate Centre
The 2022 UN ECOSOC Humanitarian Affairs Segment (HAS) in New York today heard strong calls from speakers on a high-level panel centred on climate impacts for greater attention to anticipatory action in the sector.
Joyce Msuya, UN Assistant Secretary-General for Humanitarian Affairs and OCHA Deputy Emergency Relief Coordinator, said "[country-based] pooled funds have backed our scalable pilot activities on anticipatory action, and through them we have eased the predictable suffering of more than 2.5 million people before the onset of floods and drought.

"However, all of this is not enough …. The way forward is clear. We need to invest in anticipatory action and early-warning systems … in flexible funding to support early action.

"More importantly, we need to invest in people and communities help them adapt. We are up against a crisis of unfathomable proportions."
Yesterday in Geneva, the Council of the Delegates of the Red Cross Red Crescent resolved to scale up anticipatory action to better assist people in vulnerable situations and build on the role of the Movement as a champion in this area.
The Climate Centre's Associate Director, Carina Bachofen, told the HAS panel today that humanitarian agencies and the IFRC particularly were investing more in preparedness, and that included scaling up anticipatory action.

"Many disaster-management systems have already become more anticipatory." she said. "These approaches need to be available in more communities, for different types of hazards, and on a much greater scale."
'We are up against a crisis
of unfathomable proportions'
Opening the HAS plenary Tuesday, UN Under-Secretary-General for Humanitarian Affairs, Martin Griffiths, said that as an optimist by nature he had believed "the arc of human history bends towards progress," but his conviction in its inevitability had now been shaken by "a surge in human suffering almost everywhere."
He added: "The rapidly escalating climate and ecological crisis, of course, pours fuel on the flames, eroding human life-support systems. And now the war in Ukraine has led us to a cost-of-living crisis, driving up the prices, across the world, of fuel, fertilizer and food."

"The scale of today's mega-crises requires a new approach," Mr Griffiths said, and one of five tactical shifts he advocated was a plea for the humanitarian sector to be as anticipatory as possible.

"We need to be prepared for what happens six months from now. In the case of natural disasters, we have opportunities to be better prepared, to put aid in place, to preserve assets in case of crises. And we need to do this more frequently, more reliably and in concert with those communities that will be hit."
Since 1998 HAS been seen as providing a "key opportunity for Member States, the United Nations system, development actors, the private sector and other humanitarian partners to discuss … humanitarian challenges and priorities," organizers said this year.
Other IFRC and National Society engagement at HAS 2022 included side-events on displacement, mental health, food security and humanitarian accountability.
On engaging communities, IFRC Under Secretary General Xavier Castellanos, speaking from Geneva, told an earlier high-level panel Tuesday that the International Federation had collected nearly 2 million separate items of feedback from communities during the two-year Covid pandemic.
"This is our promise: to put communities and their needs at the centre of what we do," he told the panel centred on lessons learned from Covid.x
"We can only become more resilient if we collaborate together, but this means working more broadly than the humanitarian and development sectors."
'This is our promise: to put communities and their needs at the centre of what we do'
Among other speakers on the high-level panel on climate impacts was Mahmoud Mohieldin, the UN Climate Change High-Level Champion of Egypt for COP27, who said in a virtual intervention that "there are good technical and policy solutions that could be put in place" to tackle the climate crisis "within inclusive growth and sustainable development".
But Egypt's COP presidency, he added, was emphasizing that "we have been hearing nice words, good pledges, and words of love and affection on how to save the planet and how to protect people.

"But when it comes to implementation, a lot is left to be desired."
Providing the panel with an update on the drought-related humanitarian crisis in Somalia, Adam Abdelmoula, the UN Humanitarian Coordinator there, said the country had "now suffered four consecutive failed rainy seasons and is facing the prospect of a fifth."
Seven million Somalis were affected, of whom more than 800,000 were now on the move in search of food, water and pasture.
There was "a heightened risk of localized famine in eight Somali districts already," Mr Abdelmoula said.
Overall in Somalia, there had been a "threefold increase in climate-related hazardous events since 1990" and "severe floods and droughts are the norm".

The Climate Centre's Carina Bachofen adds her voice to others calling for greater attention to anticipatory action in the humanitarian sector at the UN ECOSOC Humanitarian Affairs Segment in New York today. (Image grab: UNTV)