Red Cross deploys ERUs to Beira as Idai survivors arrive by sea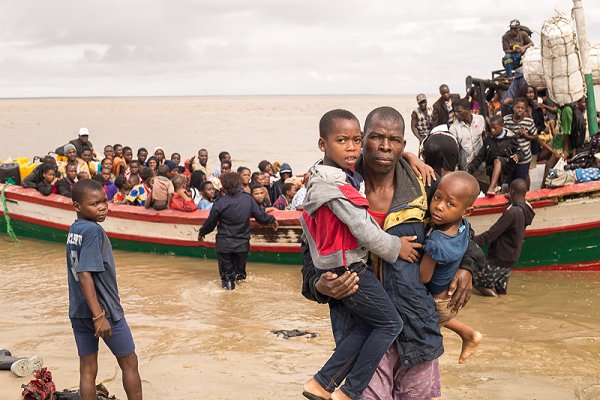 22 March 2019
(This story is a press release issued by the IFRC yesterday in Beira, Nairobi and Geneva; it has been edited here for time references. New video showing storm survivors arriving by sea at Beira yesterday is available at the IFRC Newsroom.)
Two major emergency response units (ERUs) are being deployed to Beira in Mozambique as the world's largest humanitarian network continues to scale up its response to Cyclone Idai.
The first will provide basic sanitation facilities for up to 20,000 people. The second will produce up to 225,000 litres of clean water per day – enough for 15,000 people.
The humanitarian experts accompanying the units will arrive in the coming days, with the equipment to arrive in Beira early next week.
Jamie LeSueur, IFRC Head of Operations in Mozambique, said: "We know that health risks can rise dramatically in the aftermath of any emergency, let alone one of this magnitude.
"We are concerned about the potential spread of waterborne disease. These emergency response units will be crucial for preventing that spread, and for making sure that people have the basic support they need."
Shelter kits
A third emergency response unit, designed to manage the complex logistics involved in an operation of this scale, is also being deployed.
In addition to water and sanitation, the IFRC and Mozambique Red Cross are also aiming to address the massive shelter needs caused by the tropical cyclone and the floods.
According to the government, at least 400,000 people have been displaced. Red Cross volunteers have already distributed emergency shelter kits – made up tarpaulins and basic tools – to about 1,500 families. These kits were part of a consignment the IFRC managed to deploy to Beira ahead of the flooding.
An additional consignment of emergency shelter kits for 3,000 families will arrive at the Beira port today. These crucial supplies were deployed in the aftermath of Cyclone Idai from a French Red Cross warehouse on La Réunion.
"Many people have been waiting for days for rescue and for support. It's encouraging that the humanitarian response is really starting to come to scale. But more help is needed, and we are continuing to do all we can to bring in more resources and to reach more people," said LeSueur.
Climate factors?
The IFRC and Mozambique Red Cross are appealing for 10 million Swiss francs to help 75,000 people.
The Red Cross will focus on reaching those worst affected by the crisis. In addition to water and sanitation and shelter, the IFRC is also focusing on responding to health needs and to ensuring that cyclone survivors are safe from harm during the coming recovery.
IFRC Secretary General, Elhadj As Sy, is in Beira and was today visiting Red Cross response efforts and meeting with affected communities.
Note to editors: The mass sanitation ERU is being deployed by the British Red Cross with support from the Swedish Red Cross, the water ERU by the Spanish Red Cross with support from the French Red Cross, and the logistics ERU by the Swiss Red Cross.
                                                                                      *
The two climate factors that could have played a role in the Cyclone Idai disaster are higher sea-levels and more intense rainfall embedded in the storm, the Climate Centre adds.
It is very probable that any storm surge will have been intensified by higher sea-levels in the Mozambique Channel as a result of climate change – particularly affecting, for example, informal coastal settlements like Praia Nova where the devastation was graphically clear from Red Cross drone footage earlier this week.
"There is absolutely no doubt that when there is a tropical cyclone like this, then because of climate change rainfall intensities are higher," said Dr Friederike Otto, from the University of Oxford's Environmental Change Institute, a partner in the World Weather Attribution project.
"And also because of sea-level rise, the resulting flooding is more intense than it would be without human-induced climate change."
Climate Centre Director Maarten van Aalst adds: "There were good forecasts of the cyclone itself, including heavy winds, the associated storm surge, and the likelihood of extreme rainfall, but the flood and landslide impact was less well anticipated.
"Nor was there a clear forecast of how specific locations would be impacted, especially vulnerable rural areas and informal urban settlements, and we still lack mechanisms, including finance, that enable early action at the scale needed.
"The Red Cross Red Crescent is at the forefront of developing forecast-based financing for early action, and in Mozambique the Red Cross was able to take some early actions – partly through an anticipatory funding mechanism supported there by the German Red Cross.
"But it's early days for these systems, and we still have much work ahead of us to be fully prepared for massive events like Idai."
Survivors of Cyclone Idai arrive by sea at an evacuation centre in Beira yesterday. Volunteers from the Mozambique Red Cross are providing first aid, medical treatment, and emergency supplies like blankets, and helping with the registration of evacuees. (Photo: Denis Onyodi/IFRC-Climate Centre)