IFRC releases humanitarian cash for Mozambique as Cyclone Idai makes landfall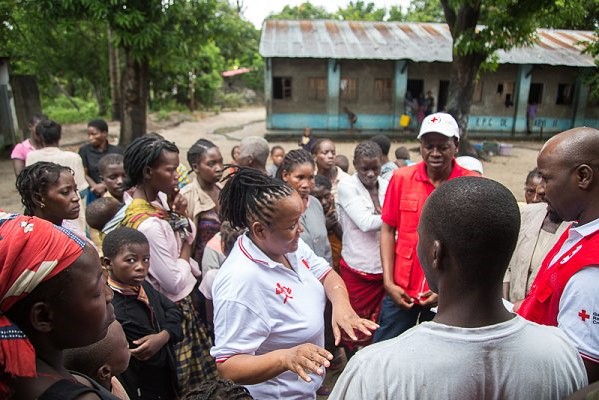 14 March 2019
The IFRC Thursday released US$ 344,000 in cash from its Disaster Relief Emergency Fund to help Mozambique address the impacts of Cyclone Idai, at almost the exact moment it was making landfall just north of the central port city of Beira.
It came ashore at least as a Category 2 storm, with maximum winds of about 170 kph, and is now forecast to track through Sofala province over the next couple of days.
"The overall objective of the operation is to meet the immediate shelter, [water and sanitation] and health needs of 1,500 households (7,500 people) affected by flooding and incoming Cyclone Idai in Zambezia, Sofala, Manica, and Tete provinces," the IFRC said.
The Red Cross, however, was also planning to provide hygiene promotion to all 17,095 people being sheltered in accommodation centres.
Severe flooding has already affected Zambezia, Tete, and Niassa provinces, and by Tuesday 15 people were reported to have died while just over 100,000 were affected, the IFRC said.
Authorities warn that "at least 160,000 people are at risk of flooding due to forecast heavy rains in the coming days in Zambezi, Licungo, Buzi and Pungoe river basins," it added.
Preparedness stocks
The Mozambique Red Cross (CVM) – working closely with Belgian-Flanders, German and Spanish Red Cross in-country partners – has mobilized more than 200 volunteers in Tete and Zambezia provinces to distribute early warnings and engage in aquatic rescue, also mustering resources from preparedness stocks and deploying a forecast-based financing focal point to Beira.
The German Red Cross has been assisting the CVM with a pilot programme for FbF and supporting the development of early-action protocols that will enable the National Society to access further international funding when agreed triggers have been met.
The CVM had been on high alert all this week after earlier lethal floods and the activation by Secretary General Alfredo Libombo of its Operational Emergency Group to coordinate assistance to affected people in Zambezia and Tete provinces.
In Beira Thursday Mozambique Red Cross volunteers toured neighbourhoods vulnerable to the danger of a storm surge after Cyclone Idai made landfall, showing people how to strengthen their homes and if necessary move to higher ground. (Photo: Denis Onyodi/IFRC-Climate Centre)