Harnessing humour to address risk: Red Cross Red Crescent launches cartoon caption competition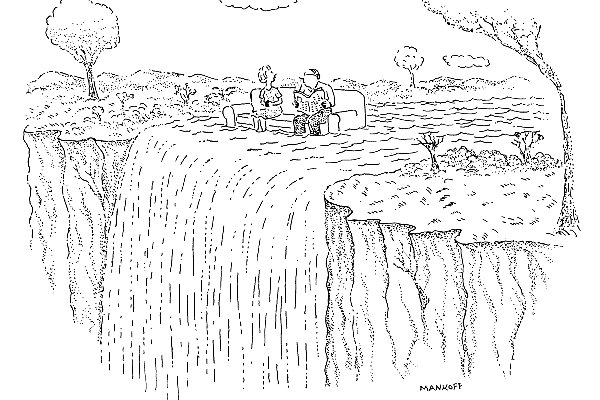 6 March 2019
The evidence is irrefutable: Humour can help improve communication, build relationships, enhance problem solving, and enable difficult conversations. 
Humanitarian work requires creative learning and dialogue on climate-risk management. Can we harness the power of humour to improve our processes and events while having serious fun? Bob Mankoff thinks so.
The former cartoon editor of The New Yorker magazine happens to be very familiar with the concept of risk. He argues that "all humour contains a little frisson of danger, something that might go wrong. Where is the danger? How are you going to manage it?" 
Mankoff, who is now cartoon and humour editor of Esquire and leads CartoonCollections.com, has been collaborating with Climate Centre Associate Director for Research and Innovation, Pablo Suarez, exploring humour as an unconventional approach to help understand and address risk, engaging people and organizations as diverse as subsistence farmers, disaster managers, and NASA. 
Mankoff and Suarez yesterday co-facilitated a workshop in Washington, DC to share key insights and chart potential options for next steps.
                   'Cartoons offer a unique opportunity
                   to address difficult issues in embraceable ways'
Combining the fascinating science of how humour works with serious-yet-fun activities and even insights from machine-learning analysis of facial expressions at a geoengineering workshop, this intensely interactive session invited participants to experience safe, innovative communication approaches that make people smile, reflect, and wonder, in ways that support climate and humanitarian work. 
The event was hosted by George Washington University's Department of Geography, and attended by at least 30 people from humanitarian, development and research organizations.
"The discussion today with Bob and Pablo demonstrated the power of a good laugh", said Marcia Wong, ICRC Head of Policy at the Regional Delegation for the US and Canada.
"For humanitarians access is key. Humour, when it can be deployed at the right time, with sensitivity and empathy, can build bridges and open doors."
Omar Abou-Samra, Director of the American Red Cross International Preparedness Team and head of the Global Disaster Preparedness Center, said: "We are excited to be launching our first-ever cartoon caption competition.
"Together with the Climate Centre and with CartoonCollections.com, we are inviting people to share an interesting perspective on risk by captioning a drawing by Bob Mankoff (image above).
"Cartoons offer a unique opportunity to address difficult issues in embraceable ways – this is your chance to use humour to communicate the complexities of risk."
'Broader audiences'
Shanna McClain, NASA Program Lead for Risk Reduction and Resilience, added: "When discussing the science of climate change and disaster-related risk, the terminology can often seem isolating and foreign.
"The use of humour, either through oral or graphic communication, offers up a story that brings the message closer to home – to the people who make decisions in their daily lives about how they consider or even perhaps respond to risk.
"Humour has the added value of providing scientists with alternative methods of communicating to broader audiences, ensuring that science is not only for scientists."
Margaret Arnold, senior social development specialist at the World Bank, said: "What I took away from the session is that humour is about communication, not entertainment.
"We routinely have to facilitate difficult conversations and convey complex ideas – humour can do this in a way that helps people think differently and take action."
Humour can help us to recognize and confront situations that are unacceptable yet accepted as normal. It can enable learning and dialogue to better manage rising climate risks. What caption would you add to this cartoon by Bob Mankoff? [Image: CartoonCollections.com]