Indian Red Cross signs on dotted line for strengthened collaboration with met department on forecasts, extremes, resilience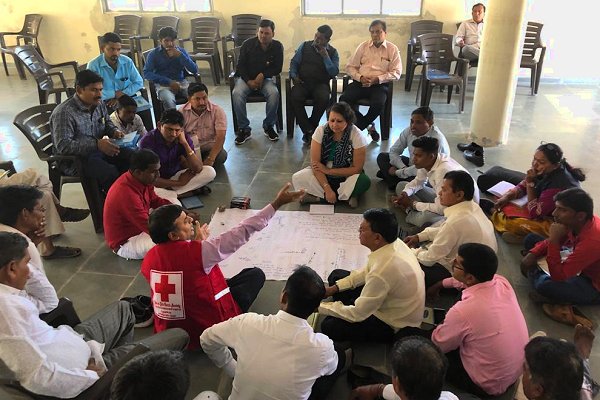 27 February 2019
The Indian Red Cross Society (IRCS) and the Indian government's Earth System Science Organization umbrella agency that includes the country's met department earlier this month signed an MoU "to share meteorological information and data to build local community resilience to disasters and health epidemics", the IRCS announced yesterday.
Among highlights of the new partnership, initiatives will be undertaken at district level to develop impact-based forecasts of heatwaves, cold snaps and exceptional rainfall, including floods.
The Indian Meteorological Department (IMD) will "collaborate with IRCS to raise awareness on weather monitoring and forecasting as part of a community-based preparedness programme of IRCS in the identified districts," its head, Dr M. Mohapatra, said.
The two organizations would also "work to make weather and forecast data easy to understand and actionable for the community," said Shri R. K. Jain, IRCS Secretary General.
"In addition to its central mandate of humanitarian response during emergencies and disasters, Indian Red Cross Society is involved in creating community resilience at state, district and block levels," he added.
"This partnership will allow both the organisations to create informed and resilient communities."
It provides for the IRCS to organize training workshops at district, state and national levels while the IMD will provide resource people and background information "for understanding the interpretation of weather monitoring and forecast information".
The IMD will collaborate with the IRCS on forecasting extreme weather "as part of the community-based preparedness programme of the Red Cross starting with districts earmarked [by the] Partners for Resilience programme", the MoU adds.
The Red Cross and IMD will "work together to make weather and forecast data and products more user-friendly, easy to understand and actionable."
'Village development'
The Delhi-based ESSO is an executive arm of India's Ministry of Earth Sciences and brings "all meteorological and ocean development activities under one umbrella," its website says.
The signing of the MoU came just ahead of a series of the latest PfR-related training sessions by the Red Cross in several states that include IMD personnel – including most recently one with 30 IRCS volunteers in north-east Assam, in Guwahati city on the Brahmaputra river.
Resource people there included participants from state IMD office, the UN children's agency UNICEF, the IFRC, and the Climate Centre.
Earlier in February a similar IRCS-led workshop took place in the village of Borsi in the state of Gujarat (photo), also involving the IFRC and Climate Centre, to help communities "work with elected representatives on integrated risk management, making them part of village development plans", the IRCS tweeted.
PfR-centred training on integrated risk management has been carried out in several Indian states, shortly after the Indian Red Cross signed an MoU with a major government agency to share meteorological information and data to assist community resilience. (Photo: ICRS via Twitter)