'Quite exceptional' winter heatwave in UK sets new temperature records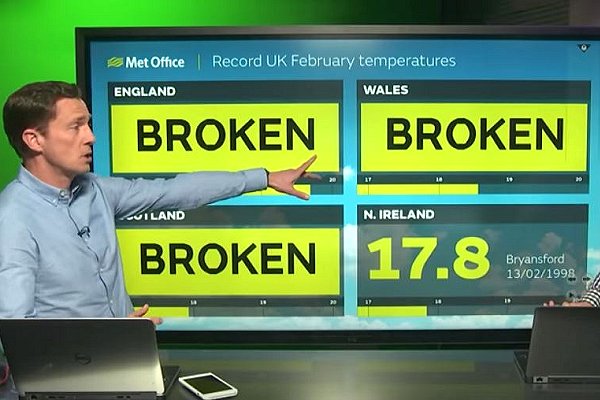 27 February 2019
The British Met Office today confirmed that new one-day temperature records for February and winter have been set for England, Wales and Scotland of 21.2, 20.8 and 18.3 degrees Celsius respectively.
What's been dubbed a "winter heatwave" also coincided with several wildfires around the country, especially a large blaze on moorland in West Yorkshire, but their precise cause has not been determined.
Commenting on the high temperatures, Dr Friedericke Otto, Acting Director of the Environmental Change Institute at Oxford University, told the BBC: "I am very confident to say that there's an element of climate change in these warm temperatures.
"But climate change alone is not causing it. You have to have the right weather systems too."
After a relatively dry winter, potentially leaving some rural areas vulnerable to wildfires, high pressure over Europe in recent days has been drawing very warm air up from North Africa and the Canary Islands via southerly winds.
The Manager of the National Climate Information Centre, Dr Mark McCarthy, described the record-breaking conditions as "quite exceptional", adding on a Met Office webcast that: "Over decades we are seeing a pattern in which we're breaking more high-temperature records and fewer lower-temperature records."
The UK Met Office Weather Studio webcast yesterday explains the current exceptional heat. (Video image: UKMO)