Strengthening multi-hazard early warning in the Pacific: new research on storms, droughts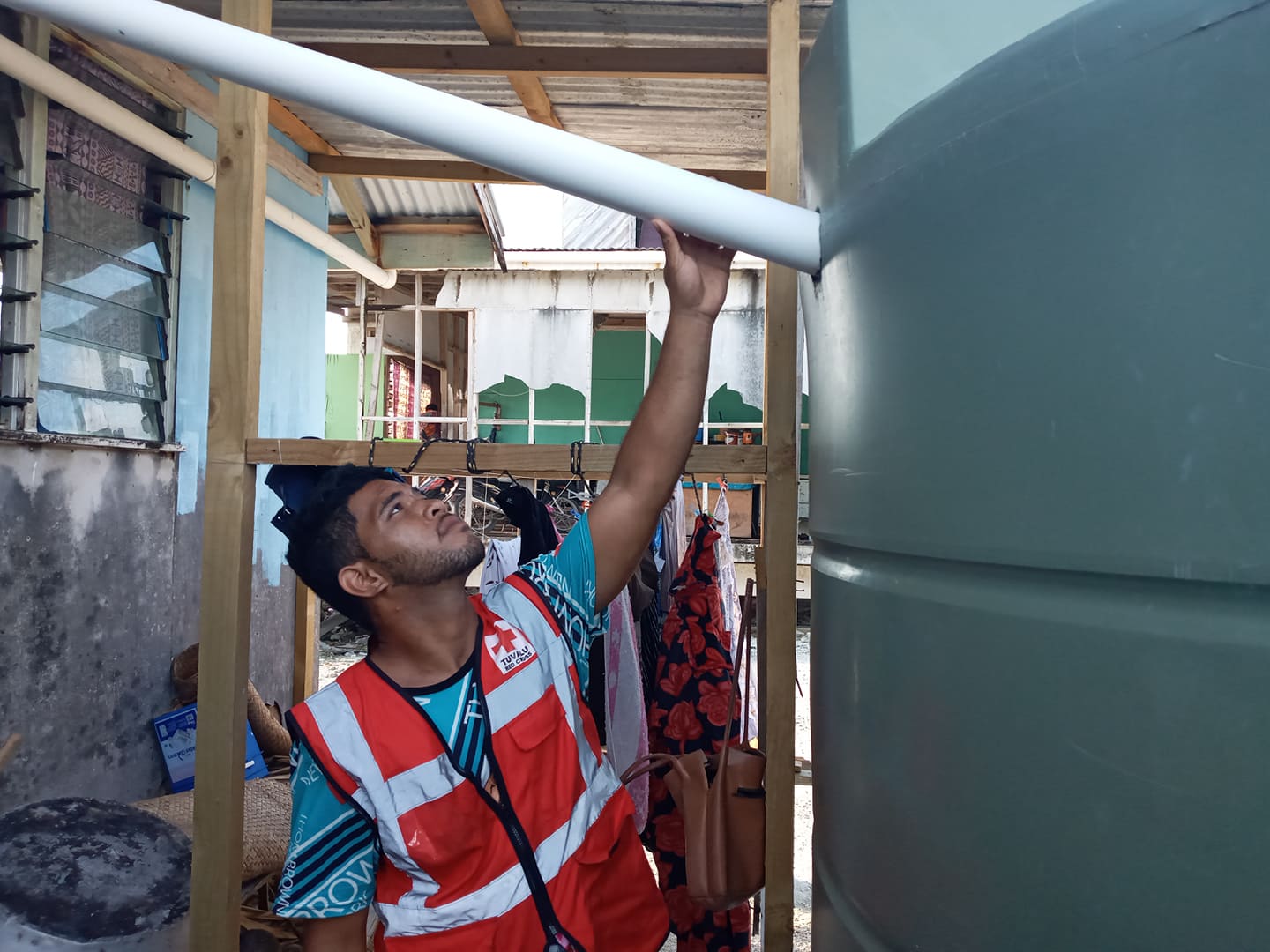 10 August 2022
By Sayanti Sengupta, Climate Centre, Germany
New research on early warning and early action for typhoons in Palau and drought in Tuvalu, published at the end of July by the Climate Centre, will help shape the Green Climate Fund programme enhancing climate resilience in five Pacific island nations, preparing the ground for new early action protocols.
The Community-based Early Warning Early Action (EWEA) in the Pacific studies focus "on understanding local practices at the community level … [and seek] to capture evidence on impacts as well as response mechanisms".
The research was funded by the Liechtenstein government and involved the University of the South Pacific as well as the two National Societies, the IFRC in the region, and the Climate Centre.
Cook Islands, Niue, Palau, the Marshall Islands and Tuvalu "are at the forefront of increasing risks from the impacts of climate change," the GCF says, and it plans "integrated climate and ocean information services and people-centred multi-hazard early warning systems" through better climate information, community preparedness, response and resilience.
Bell ringing
The study in Palau focused on young people "to narrow down the research and to acknowledge … the specific vulnerability youth groups face from present and future climate change patterns, and the expected role they will play as agents of change in minimising some of the adverse impacts".
The young are already engaged informally in preparing for storms, securing loose items around the house, boarding up windows, arranging water containers, buying food, fuelling cars, preparing emergency kits, reviewing family plans, sharing warning messages (by bell ringing, for example), putting valuables in safe places, cutting down trees near buildings, ensuring access to mobile credit, and more.

But young interviewees reported a lack of opportunity to be engaged in leadership on early warning early action and said they would like to be more involved in decision-making at the community level.

"Youth want to be agents of change, protect their families and communities, and help those who are vulnerable to the negative impacts of disasters," the Palau report says.
"By providing guidance on where to seek accurate information and how to be part of household- and community-level disaster management planning as well as systems for coordination, such as coordination groups and councils, youth could more be effectively engaged."
The Tuvalu study found that drought was the hazard communities felt least prepared for, compared to typhoons, for which people generally felt better prepared with reliable early warning systems.
Tuvalu is dependent on rainfall for fresh water. There are no rivers and groundwater is extremely limited; rainwater is harvested in household-, community- and church-owned tanks and a large government cistern.
"Households are not currently able to increase their water storage capacity or manage their water use to outlast the drought. These two factors are the most important actions for increasing drought resilience," the Tuvalu study says.
Climate lens

Tuvalu interviewees expressed interest in acquiring relevant skills for construction, information and maintenance of stored water during droughts, as well as repairing tanks after storm damage.
The study found that women, who are primarily responsible for managing domestic water availability and usage, felt least prepared for droughts while men felt least prepared for cyclones, in which they are most involved.
Recommendations for Tuvalu include the incorporation of a climate lens into policy-making: "Information on climate change-related hazard risks in Tuvalu should become part of future policy-making, and all sectors should be engaged in combatting the long-term impacts of accelerated anthropogenic climate change."
Most recently, the IFRC issued a DREF grant last April for just over 300,000 Swiss francs for relief after Typhoon Surigae – then said to be the strongest typhoon in the northern hemisphere before May – passed over the north of Palau; all 16 states across the main island and five outer islands were affected by intense rain and high winds.
Last August the IFRC issued a DREF worth just over 30,000 Swiss francs after a drought warning in Tuvalu, assisting with household surveys and tank inspections (photo), among other work.
Tuvalu Red Cross volunteers in Funafuti assisting with household water-tank operations last September to help communities cope with the dry period, when rainfall fell to some of the lowest levels recorded. (Photo: Tuvalu Red Cross)