Red Cross emergency teams watch for further flooding in N. Queensland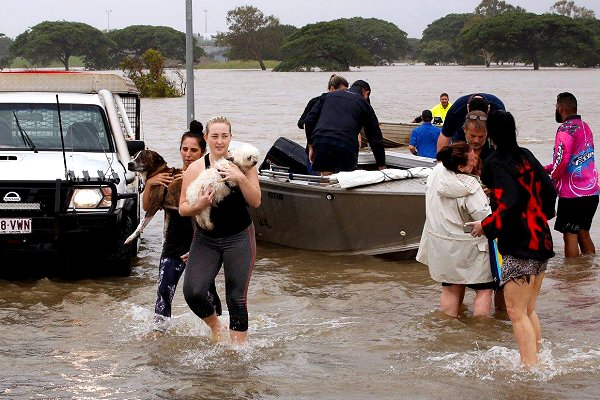 7 February 2019
The Australian Red Cross yesterday said its emergency teams on the north coast of Queensland were continuing to assist people hit by severe monsoon flooding that's been described as unprecedented and has claimed at least two lives and affected an estimated 20,000 homes. 
The Red Cross said it had 25 emergency personnel on the ground operating from evacuation centres in coastal Townsville, with more rain forecast and flood warnings still in force.
"We're geared up to support those who need help in the coming days, with rain set to continue until the weekend," said Collin Sivalingum from the Red Cross emergency service in Queensland.
"We are also supporting Townsville local council and the Queensland government in preparing for recovery activities.
"Our people offer psychological first aid to support people's well-being through the ordeal of a disaster, and we are still operating register.find.reunite to help relatives enquire [after] missing loved ones."
'Heavy falls'
The Queensland Bureau of Meteorology late Wednesday tweeted that although "the threat of widespread very heavy rainfall is beginning to ease in north Queensland, the environment remains favourable for more localized heavy falls with thunderstorms."
The most recent local record rainfall or river level notified by the BOM was at the still-rising Flinders river at Richmond, where a reading of 9.17m at 06:00 local time exceeded a record set in 1974. 
"In general extreme-rainfall events are expected to increase in intensity in parts of Australia with climate change, but this is likely to vary from place to place, probably more so than other impacts there like heatwaves," said Climate Centre Director Maarten van Aalst.
"Only a full attribution study of the latest intense rainfall will give us a picture of what's behind this episode in Queensland, which has done so much damage."
Young people rescue their pets during an evacuation in the recent floods in northern Queensland. The Australian Red Cross is assisting thousands of householders affected by the latest intense rain and floods to hit the state. (Photo: ARC via Facebook)