Red Cross urges public to check on people during big freeze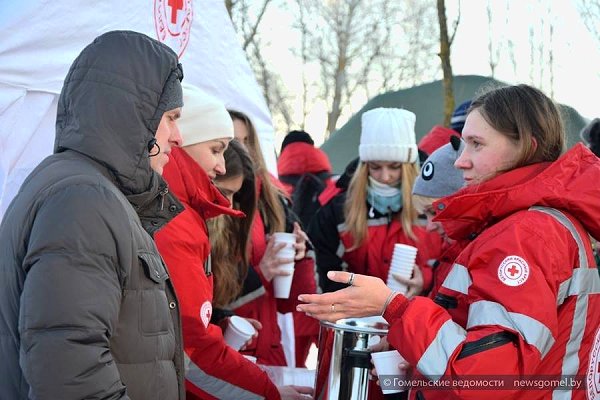 1 February 2019
(A version of this story appeared earlier today as an IFRC press release.)
The IFRC is calling on people to check on neighbours, relatives and friends – especially older people – who may be at risk as freezing temperatures hit Europe.
With severe weather warnings in place in several countries for this weekend, Red Cross volunteers are ramping up their support for vulnerable people in need, and specialist Red Cross rescue teams are on standby.
Dr Aneta Trgachevska, a specialist in health and ageing based in IFRC's Regional Office for Europe, advises people to check on vulnerable people in person and by telephone and offer them help with tasks such as picking up groceries or medication.
People at risk can protect their health and well-being in several ways, Dr Trgachevska said. "Drink hot beverages and eat well because this helps to maintain body temperature.
"Avoid alcohol which increases the risk of hypothermia, and make sure that at least one room in your house meets the minimum recommended temperature of 20 degrees Celsius.
"Older persons and those with chronic diseases need warmer clothes because their bodies produce less heat.
"Dress warmly on cold days, even if you are staying in the house. Throw a blanket over your legs. Wear socks and slippers. If you're going outside protect your head, hands, and feet."
In Spain, Italy, Germany and France, Red Cross volunteers are providing blankets, hot drinks and food to homeless people, while the Red Cross in Belgium is staffing several shelters for people living on the streets.
British Red Cross teams in Northern Ireland are providing transport for care workers so they can reach people in rural areas affected by snow.
In Belarus, where temperatures have plummeted to minus 20 degrees Celsius, heated tents have been set up in areas with large numbers of pedestrians.
Specialist Red Cross mountain rescue teams have also been on high alert this winter, with "once in a century" snowfalls in Austria and record snowfalls in Switzerland and Germany.
The Norwegian Red Cross rescue team helped retrieve the bodies of three skiers who went missing in an avalanche in January.
Severe weather warnings have been issued across many parts of western Europe for this weekend, with a high risk of avalanches, flash flooding and heavy snow.
                                                                                    *
"Broadly speaking, winters are still getting warmer with climate change worldwide, and extreme-cold events are actually warming faster – getting slightly less severe, that is – than the global average, although that may not be much help to humanitarian first-responders," added Climate Centre Director Maarten van Aalst.
"The break-up of the polar vortex a month ago increased the probability for subsequent cold snaps in North America, Russia and Europe, but there's no scientific consensus behind the suggestion this is linked to Arctic warming. 
"In any case, the current cold snap was forecast successfully well ahead of the event, partly based on stratospheric conditions.
"The key point seems to be, as so often, the kind of continuing preparedness measures the American Red Cross, for example, and other National Societies have highlighted over the past couple of weeks, however rare extremes of cold may actually be, or just feel." 
As temperatures fell to minus 20 degrees Celsius in some regions of Belarus, Red Cross volunteers provided tea and heated tents at public spaces. (Photo: IFRC via Twitter)