IPCC starts work on impacts and adaptation for next global climate assessment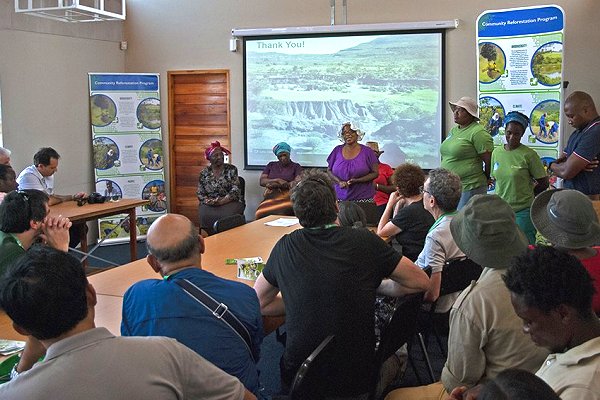 29 January 2019
Scientists on the Intergovernmental Panel on Climate Change (IPCC) who cover impacts, adaptation and vulnerability to climate change met last week in Durban, South Africa to begin work on their contribution to its next assessment of the global climate – the sixth – known as 'AR6'.
This Working Group II component of AR6 will also examine the ability of human and natural systems to adapt, and options to reduce the risks associated with climate change.
Their report, along with contributions from the IPCC's other two working groups covering the physical science basis of climate change and mitigation, will be finalized in 2021.
More than 250 experts from at least 60 countries held their first Lead Author meeting in Durban "to map out their assessment and details of the drafting process", an IPCC press release said.
       'The partnership with science is fundamental
in identifying solutions for society'
They included Climate Centre Director Maarten van Aalst, its Manager Climate Science, Erin Coughlan de Perez, and Senior Pacific Climate Adviser Olivia Warrick, who will all write for AR6.
Working Group II's latest report will provide "a profound scientific basis for country efforts to reduce the risks from climate change," said its Co-Chair, Hans-Otto Pörtner.
"The partnership with science is fundamental in identifying solutions for society," said WGII's other co-chair, Debra Roberts. "We will need the enabling environment of national governments that have the foresight of integrating science."
Dr Van Aalst said that from a Red Cross Red Crescent point of view, it was encouraging to see the IPCC including more authors joining AR6 who combine scientific backgrounds with humanitarian, disaster management, and development experience, showing how the IPCC is focusing increasingly on identifying solutions to the challenges of climate.
"Another important role for these experts is to help get local knowledge on climate risk, drawn from their own field experience, recognized as a crucial part of the evidence base," he added.
"Research driven by the questions emerging from practice will help achieve the adaptation goals outlined in the Paris Agreement."
Research goals
Assessment authors are selected from nominations by governments and IPCC observer organizations "to balance expertise, gender, countries and regions to ensure that diverse views and scientific disciplines are included," said the IPCC press release.
A Synthesis Report integrating all three working groups' contributions will complete AR6 in 2022 – the last assessment before the crucial global stocktake the following year of progress under the Paris Agreement.
Debra Roberts stressed in Durban: "If there's one assessment cycle to be involved in it's this one, because you have the chance to have a very significant impact". 
IPCC scientists on a field trip last week alongside the first Lead Author meeting in Durban of Working Group II hear community members explain the reforestation programme at Buffelsdraai, 30km north of the city. The IPCC's Maike Nicolai tweeted that it was a "great example of thinking globally and acting locally". (Photo: @NicolaiM/IPCC)