First ever ICRC contribution to Security Council debate on climate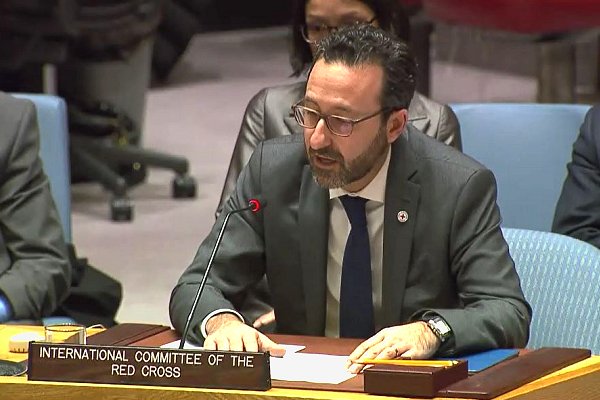 28 January 2019
The ICRC's Permanent Observer to the UN, Robert Mardini, Friday told an open Security Council meeting on climate and conflict that "climate change deepens vulnerabilities for communities affected by war".
Speaking for the whole Red Cross Red Crescent Movement, Mr Mardini added that the international community "must consider how the simultaneous shocks of climate change and armed conflict affect people's livelihoods in shaping our response."
Mr Mardini, who also heads the ICRC's delegation in New York and is a former director of the International Committee's Middle East operations, said that "in situations of armed conflict…countries, communities and populations are the least prepared and the least able to protect themselves and adapt."
The ICRC tweeted that it was the first time it had addressed the Council on the subject of climate and conflict – often referred to as a 'climate-conflict nexus' and generally agreed to be rising on the international agenda.
                                  'Deeds must follow words'
To coincide with the debate, the ICRC tweeted a video case-study of a Somali pastoralist who told field workers that "[i]n 43 years I have never seen or heard of a drought like this one". The ICRC says 2.6 million people are displaced inside Somalia by drought, flooding or conflict.
"The risks associated with climate-related disasters do not represent a scenario of some distant future," Rosemary DiCarlo, UN Under-Secretary-General for Political and Peacebuilding Affairs, told the Council.
"They are already a reality for millions of people around the globe, and they are not going away."
In another important first, the UN said, the World Meteorological Organization was invited to brief the Council on climate and extreme weather.
"Climate change has a multitude of security impacts," said Professor Pavel Kabat, WMO Chief Scientist, "rolling back gains in nutrition and access to food, heightening the risk of wildfires and exacerbating air-quality challenges, and increasing the potential for water conflict, leading to internal displacement and migration.
"It is increasingly regarded as a national-security threat."
Ministers
Professor Kabat said the WMO stood ready to support the UN with cutting-edge science and expert information to assist informed decision-making.
Whether climate change should be examined by the Security Council at all has been the focus of controversy, according to the UN account of the meeting Friday, with some governments arguing it's the province of "other UN entities…mandated with taking a lead on social and economic development, or environmental protection."
However the UN said that since first debating the subject in 2007, the Council has "increasingly taken steps that effectively acknowledge that the two issues [of security and climate] are related."
The UN report added: "In a sign of how important the discussion is to many countries, the debate was attended by over 70 Member States and included statements in the Council chamber from a dozen Ministers, including Kuwait, Belgium, Indonesia, Germany and Poland."
'Armies and businesses' 
Ms DiCarlo flagged what she called three key areas: analytical capacity with integrated frameworks for risk assessment, an evidence base for good practice on managing climate risk in the field, and partnerships to reinforce capacity in and out of the UN system.
"Most important, for all of us, is the recognition that deeds must follow words," she concluded.
"Major armies and businesses have long recognized the need to prepare for climate-related risks, rightfully assessing climate change as a threat-multiplier.
"We cannot lag behind. We must act now, with a sense of urgency and a commitment to place people, especially those most marginalized and vulnerable, at the centre of our efforts".
ICRC Permanent Observer to the UN, Robert Mardini, telling the Security Council that "climate change deepens vulnerabilities for communities affected by war". (Video still: UNTV via Twitter)