Influenza and extreme cold among 'deadly risks' combining against Mongolia's children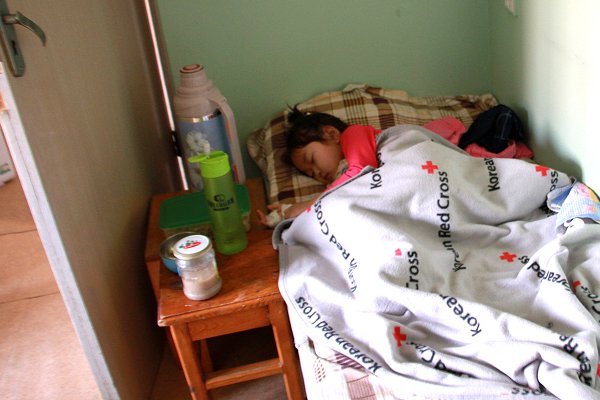 24 January 2019
(This story is an IFRC press release issued earlier today in Ulaanbaatar and Geneva.)
An outbreak of Influenza A (H1N1) in Mongolia has been called a "kids' crisis" by the Mongolian Red Cross Society (MRCS), with children under five accounting for more than two-thirds of cases reported up to 18 January.
Health services are increasingly stretched. According to the Ministry of Health, an average of 139 influenza patients are hospitalized every day. Of these, almost 90 per cent are infants and children under the age of five.
Hospitals in the capital, Ulaanbaatar, can usually admit 977 children but are struggling to find beds for more than 1,500 currently hospitalized in the city.
As of 24 January, four children have unfortunately died of influenza.
"This influenza outbreak, along with extreme cold, air pollution, poverty and the risk of pneumonia, are combining to pose deadly risks, especially for young children," said Bolormaa Nordov, Secretary General of the Mongolian Red Cross.
"This is absolutely a 'kids' crisis'. The situation is alarming because the peak of the influenza season is still two months away.
"We are also concerned that the coming Lunar New Year [5–7 February] will see many people on the move across the country, providing an opportunity for the outbreak to spread even further," she said.
Local quarantines?
The proportion of people affected so far – 73 cases in every 10,000 people – is well above the average of the two previous flu seasons. Across the country, 9 per cent of people visiting healthcare providers have influenza.
However, in some areas this figure rises to 23 per cent, leading some provinces and districts to prepare for local quarantines.
If the national figure climbs above 15 per cent then a local and national quarantine could be ordered, according to the Ministry of Health's contingency plan.
The Mongolian Red Cross is working with the government to respond to this unfolding emergency.
The Red Cross has provided portable beds to one overwhelmed hospital in Ulaanbaatar and is getting ready to deploy trained volunteers and staff to high-risk areas.
The Red Cross is also running a countrywide social-media campaign designed to provide people with information they can use to avoid getting sick and to protect their families.
                                                                          *
Mongolia's National Agency of Meteorology and Environment Monitoring (NAMEM) issued a warning of extreme cold in late December, with temperatures as low as minus 45°C expected in some western provinces, the Climate Centre adds.
NAMEM said earlier this week that warmer temperatures were expected in most of the country, but a continuing cold snap in some northern parts would see night temperatures as low as minus 37°C.
Ulaanbaatar is statistically the coldest capital city in the world.
During last year's international Red Cross emergency operation for extreme winter, which included a forecast-based financing component, assessment teams in one area were told that recent temperatures had fallen almost to minus 50 degrees Celsius, which only around half its livestock were expected to survive.
A child sleeps on a portable bed provided by the Red Cross at the district hospital in Songino Khairkhan, in the Mongolian capital Ulaanbaatar. Influenza along with extreme cold, pollution, poverty and pneumonia are combining to pose deadly risks to young children in Mongolia. (Photo: MRCS via IFRC)